First Look: Paramount Network's 'Heathers' Series Updates the Killer Cult Classic
During Sunday's broadcast of MTV's VMAs, Paramount Network debuted a teaser for the new series Heathers, which is coming to the soon-to-be-launched network in 2018.
The series is based on the 1988 cult classic starring Winona Ryder and Christian Slater, and is described as a "pitch-black anthology series set in the present day." The teaser, which has also been put out on the show's Instagram page along with character descriptions, gives us a little glimpse of what's to come. Here, Veronica Sawyer (Grace Victoria Cox) and boyfriend J.D. (James Scully) deal with a very different, but equally vicious group of Heathers—Heather Chandler (Melanie Field), Heather Duke (Brendan Scannell) and Heather McNamara (Jasmine Mathews).
The clip is brief, but it, along with the character descriptions, shows enough to let us know that high-school "Heathers" exist in all times, not just the 1980s (and that even a man can be a "Heather").
The uncensored video also drops one of the original film's iconic, NSFW lines, so be prepared! (And if you can't handle it, what is your damage?)
Heathers, Coming to Paramount Network in 2018.
Paramount Network is expected to launch in the first quarter of 2018.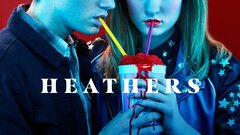 Powered by