First Look: Discovery's 'Gold Rush' Returns in October for Season 6 (VIDEO)
There's gold in them thar TV hills.
Discovery's most-watched series, Gold Rush, returns for Season 6 with a two-hour season premiere on Friday, Oct. 16 at 9/8c. Also back that night: Preshow The Dirt, which airs at 8/7c.
Season 6 follows Todd Hoffman, coming off a hot streak, setting an even larger goal for his crew this time out. His son, 16-year-old Hunter, also joins in to keep the tradition alive, making for three generations of Hoffman men working on the claim.
Then there's 21-year-old Parker Schnabel, who mined $3 million worth of gold last season–even as his crew soured on working for him. But this season is different, and he struggles to avoid disaster while honing his leadership skills.
Also, Tony Beets, "The Viking," has just resurrected his 75-year-old gold mining dredge, which hadn't run in 30 years. Now, it just has to produce gold and pay for itself. Beets hopes to prove that dredging is the answer to finding gold in the Klondike.
The Dirt returns with new behind-the-scenes features, bonus material and insight from the show's miners. Raw Television produces Gold Rush for Discovery.
Here's a first look at Season 6.
[jwplatform FbH3LtaS]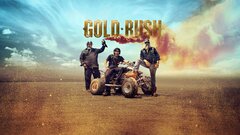 Powered by