First Look: Yahoo Adds Dan Harmon Commentary Tracks to 'Community' Episodes (VIDEO)
Before we close the book on Season 6 of Community, series creator Dan Harmon has a few more things he'd like to say.
Today at noon/11c, Yahoo Screen is launching "Communitary," new versions of all 13 episodes of Community Season 6, this time featuring exclusive commentary from Harmon. Like a DVD commentary track, the episodes will feature insight and behind-the-scenes scoop from Harmon for each episode.
"Communitary" is part of a second wave of Community marketing that Yahoo has launched to promote the show during the back-to-school rush. This weekend, the streaming service sponsored "Communathon," an event at The Princeton Review testing centers around the country. Fans took an exam based on Community trivia, with a grand prize winner receiving $5,000. Harmon attended the event in Los Angeles, and took the exam as well. (No word on his test results.)
As for the future of Community, Yahoo and Harmon remain mum. But as several have hinted, a Community movie may ultimately be more likely than a 7th season of the show. "I think if Dan writes a movie script, we all would do it," star Joel McHale told TV Insider this spring.
Here's an exclusive first look at the new "Communitary" commentary tracks for Community, from the Season 6 episode "Basic Crisis Room Decorum."
[jwplatform ganKLn74]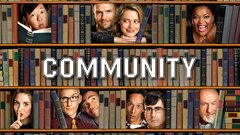 Powered by