'MasterChef' Preview: What Do You Do When Your Ingredient Is Alive? (VIDEO)
Chef Aaron Sanchez brings a taste of the Big Easy to the MasterChef kitchen when he challenges the home cooks to cook using crawfish.
In this exclusive clip from the Aug. 23 double episode, "In A Pinch/Gordon's Game Of Chicken," the southern delicacies are presented with much fanfare, and the cooks are surprised to realize…their ingredient is alive!
Check it out:
Depending on which region of the country where they're found, these little lobster-lookalikes are also known as crayfish, crawdads and mudbugs, and they can make a tasty meal. But getting to the prized morsel inside the crustacean's shells requires a bit of skill and a lot of courage. And the six home cooks who fare the worst in this skills challenge will go head-to-head in an elimination challenge, where they will attempt a difficult crawfish dish created by Gordon Ramsay.
MasterChef, Wednesdays at 8/7c, Fox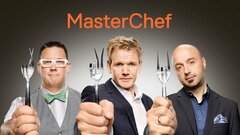 Powered by