Colin Ferguson on Romancing Andie MacDowell in 'Cedar Cove'
As Hallmark's cozy drama Cedar Cove heads toward its third season finale, take-charge New Yorker Paul Watson (Colin Ferguson), the new district attorney, has shaken up the idyllic hamlet. Particularly flustered is Judge Olivia Lockhart (Andie MacDowell), who's having problems with her boyfriend, Jack (Dylan Neal). Sci-fi stalwart (and current "Maytag Man") Ferguson filled us
in on his change from monster-killer to heartbreaker.
Your fictional settings are usually supernaturally afflicted, like on Eureka, The Vampire Diaries and Haven. How do you enjoy hanging out in TV's most normal town since Mayberry?
I'm loving it, specifically for that reason. When you come from sci-fi, shooting is hard. You have special effects, makeup, prosthetics, you usually shoot at night. All of a sudden, I'm transported to this town where we shoot during the day and no one's ever on wires. It's a complete change of pace.
Is the city-slicker DA what passes for a slippery character in Cedar Cove?
[Land developer] Warren [Brennan Elliot] has slippery sewn up. [Laughs] Paul's just straightforward about what he wants. When you have feelings for someone and you see they're unhappy in their relationship, it's hard not to think, "Why not me? We might be happy together."
Is he too straightforward for Olivia?
She's dating someone who is a little withholding, so Paul comes across as really refreshing.
What's Paul up to in the season's final episodes?
He has to deal with his emotions regarding Olivia, his nervousness about dating after his divorce, his problematic work situation with his ADA Rebecca [Cindy Busby] and trying to settle into a town he's not sure he can be in.
Because of Olivia?
I think so. It makes it hard for him to work around someone he has feelings for.
Olivia has sterling ethics, but will she and Paul at least kiss? Especially since his future in town is up in the air.
Our chemistry has just gotten better over the course of the season, but I have to leave that as a maybe.
Cedar Cove, Saturday, September 12, 8/7c, Hallmark Channel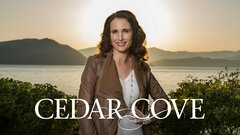 Powered by