Vivian Howard on Why 'A Chef's Life' Almost Didn't Make It on TV
She's the quintessential small-town girl who made good. But she did it in her small town. Vivian Howard, star of the Peabody- and Emmy-winning PBS series A Chef's Life, runs Chef & the Farmer, a four-star farm-to-table eatery in Kinston, North Carolina, one of the poorest areas in the nation. This was never her plan.
You owned a gourmet delivery service in Manhattan when your parents offered to help you open a restaurant where you grew up, in the low country of eastern North Carolina. But didn't you flee that region?
I was ashamed of the very thing that I now exalt in. At 14, I left home to go to boarding school and said I would never go back. I tried to hide my country accent to the point of sounding ridiculous. I was humiliated that my mom and dad were farmers. Now I find farming to be the most exciting and admirable thing. My parents are more fantastic than I will ever be.
Why was A Chef's Life so hard to get off the ground?
It's not easy doing a show set in a part of the country no one cares about. We created our own little pilot and even our local PBS station said, "This is awful! Is it a documentary or a food show? It can't be both!" But we were really passionate and felt it was different and cool. Finally, we got a big vote of approval from PBS in Washington, D.C. They wanted 12 more episodes!
RELATED: Natalie Morales Channels Her Inner Julia Child
So a Peabody, eh? How did winning that feel?
Well, first I had to look up what it was. But the timing was incredible! We were still having a hard time finding funders when we won the prize, and it gave us the courage to keep going. It was incredible to be in a group that included Anthony Bourdain, Orange Is the New Black and House of Cards. I spent the whole ceremony photo bombing the stars.
How has your little burg adjusted to showbiz?
Nobody here cares. [Laughs] They never thought A Chef's Life would see the light of day. It was just Vivian's harebrained scheme. But that's slowly changing now that we're getting some attention. Now my mom comes on my show and she's like, "I can't believe the whole world just saw me chew on chicken gristle!"
Okra Oven Fries
"This makes a delicious side dish to accompany roast chicken and stewed tomatoes," Howard says. "But they're even better to eat in front of the television."
Serves 4
Ingredients
1     pound okra, split or quartered lengthwise
2     tablespoons olive oil
2     teaspoons ground coriander
1     teaspoon salt
12   turns black pepper
Instructions
Preheat oven to 400° F. In a medium bowl, toss okra with the other ingredients. Spread okra onto a large baking pan, making sure the pieces do not overlap. Slide pan onto the middle rack of oven. After 10 minutes, turn okra gently with a spatula. Cook an additional 10 to 15 minutes. When okra is done, it will be brown and crispy in a lot of places but shouldn't smell burned. Serve warm or at room temperature. Great with a creamy dip!
A Chef's Life, Season premiere, Thursday, Sept. 3, 8/7c, PBS (check local listings at pbs.org)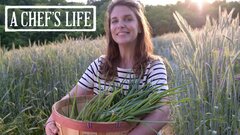 Powered by