Exclusive: 'Scorpion' Recruits Peri Gilpin for Recurring Role
A new team member is heading to Scorpion.
Peri Gilpin has joined the CBS procedural's second season in a recurring role. The Frasier alum will play new Deputy Director of Homeland Security Katherine Cooper beginning in this season's fourth episode, currently slated to air on October 12.
RELATED: A Look Back at Scorpion's Season 1 Finale
Gilpin's character is actually the second new Deputy Director of Homeland Security in Scorpion's second season. Forever vet Alana de la Garza will appear as Deputy Director Adriana Molina (replacing David Fabrizio's Director Merrick) in the first three episodes, but scheduling conflicts prevented her from continuing in the role after she was cast in the new Criminal Minds spinoff, Beyond Borders.
Gilpin is best known to audiences as radio producer Roz Doyle on NBC's Frasier. She has also appeared on Showtime's Masters of Sex, CBS's CSI and, most recently, in NBC's summer comedy Mr. Robinson.
Scorpion's second season premieres Monday, September 21 at 9/8c on CBS.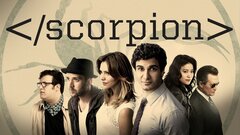 Powered by