Scorpion: On the Set of the Season Finale Episode
They've battled a raging forest fire to rescue lost hikers. They've confronted a dangerous arms dealer aboard a cruise ship. They've even supervised an international summit to prevent World War III. Now the members of Team Scorpion must rally for their most difficult mission yet: preventing their own demise.
High above California's San Fernando Valley, on a winding access road that snakes along the north edge of Los Angeles' Griffith Park, a cavalry of fake news vans and emergency rescue vehicles surrounds one particularly sharp hairpin turn. Jet-black skid marks and a broken guardrail signal a terrifying car accident. "We've heard screeching, we might have seen a coyote jump in the middle of the road, and our leader is in peril," says Ari Stidham, who plays Scorpion's quirky numbers cruncher, Sylvester Dodd. "Walter [Elyes Gabel] has turned his new Ferrari very quickly and 'Tokyo drifted' into the darkness."
It's a literal cliffhanger that sets the scene for the Season 1 finale of CBS's hit procedural. A rift has formed within the ragtag group of geniuses, and their frustrated leader–armed with an IQ of 197 and a shiny new sports car–has embarked on a reckless joyride to blow off steam. Instead, he finds himself dangling precipitously off the side of Mulholland Drive. "Walter O'Brien is the man who's always saving everybody," says executive producer Nick Santora. "We wanted to turn it around and see the team come together in this emotional way to save this person they care so much about."
That means reassembling the squad's key players, beginning with Special Agent Cabe Gallo (Robert Patrick). Cabe and Walter met when Walter was a young boy in Ireland who hacked into NASA's computer system. After partnering with Cabe and the FBI for years on a number of classified projects, 16-year-old Walter learned that software he developed for humanitarian purposes was used to bomb innocent civilians in Iraq. He cut ties with Cabe; the agent re-recruited the genius as an adult. "This whole season has been about redemption for Cabe," says Patrick. "Cabe puts country first, so he sees how valuable Walter's brain is and what an important asset he is to the U.S. government."
The strong father-son relationship between the two was tested in the April 13 episode when Cabe admitted to Walter that he knew about the government's plans in Baghdad three days before the mission commenced. That betrayal–and the ensuing confrontation–led to Cabe's resignation from Team Scorpion. "There comes a time in every young man's life when he has to tell his old man to f— off, figuratively or literally," Patrick says. "That's part of becoming a man, and Walter is trying to find his own self and establish himself as the leader of this team."
Walter also has to come to terms with the departure of Paige Dineen (Katharine McPhee), the team's nongenius and the one who helps them relate to regular people. Paige is concerned about the negative influence Team Scorpion is having on her young gifted son, Ralph (Riley B. Smith), who has started hacking computers and was last seen facing imminent danger after getting stuck in Walter's lab. "Her son has been emulating Walter more and more, and it leaves her terrified," says executive producer Nicholas Wootton. So Paige decides to follow Ralph's baseball-player dad to Maine. "Against her emotional wishes–the tugging of her heart for Walter and the team–she's going to make this move," Wootton says.
Walter and Paige's will-they-or-won't-they relationship has been a driving force for Season 1 and a way for the brainiac to tap into his rarely utilized sentiments. "He has an incredible range of emotions," Gabel says. "He just doesn't know how to articulate them." Viewers will have to wait to see if anything romantic develops between the two. "I don't see it happening soon," McPhee says, "because Walter gets confused about feelings versus intellectual logic. The professional line [he refuses to cross with her] is also very confusing, and you can definitely see that she's disappointed."
One on-screen romance that has come to some fruition is the increasing infatuation between behavioral psychologist Toby Curtis (Eddie Kaye Thomas) and mechanical engineer Happy Quinn (Jaydn Wong). However, tension between the two reached an all-time high after Toby took a sleeping pill and missed their first dinner date. "Toby is a dog with a bone when it comes to Happy, so he is not going to give up," Santora says. "Deep down, Happy has acknowledged that he's her best friend, and I believe that she also loves him, but she's been hurt throughout her life, so she's not ready to take that leap."
And with Cabe and Paige MIA, it's up to Toby to take control of Team Scorpion and spearhead Walter's rescue. "I'm wearing a tie for the first time this season," Thomas says. "But it takes more than a tie to lead a group, and supreme brain power only takes you so far."
Toby might have to get used to the leadership role, because even before his car accident, Walter's commitment to Scorpion was being tested. Tech billionaire Richard Elia (Andy Buckley), the father of a young girl the team freed from a Mexican drug cartel earlier this season, has been trying to recruit Walter for a job at his company. Elia finally captured Walter's attention by gifting him that dangerous red Ferrari, tapping into Walter's love of sports cars established in the series' pilot. "Walter needs to go so fast and leave all this static crap behind," Gabel says. "He enables himself to get away from all the clutter that people normally experience. But there's some danger being on the edge constantly."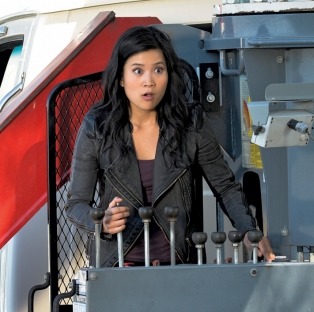 Indeed, Walter learns that the reality of living on the edge is much more harrowing than he anticipated. Throughout the tense hour, he fights for survival, enduring a life-threatening injury sustained in the crash, the car's engine fire, and a pesky visitor. "There's a crow that's just screwing with Walter through the whole episode," Santora reveals.
The fate of Team Scorpion may lie in the balance, but the future of Scorpion the TV series is clear. After averaging 11 million total viewers this season, the show has already been renewed by CBS and the episode order has increased from 22 to 24. "We're going to continue being an action comedy with a lot of heart and a lot of stakes," Santora says. "We're going to keep the relationships developing and moving forward, but we're not going to lose an iota of what the viewers have come to expect."
The actors have their own requests for Season 2, and for McPhee, that means getting more involved in the action. "I want to sex up the show a little bit," says the American Idol and Smash alum, who is planning an intensive schedule of boot camp and meditation before production begins in July. "Maybe one day–boom–Paige is in a catsuit like Catherine Zeta-Jones in Entrapment. I want Paige to kick some ass."
The ethos of Team Scorpion extends to the off-screen camaraderie between the actors. Gabel and McPhee have been dating since last summer; Thomas and McPhee often carpool to and from work; and McPhee even provided guest vocals on a track by Stidham's band, DRTV, titled "No One Else." "She came in and just shredded," says Stidham, who hopes to release an EP later this year.
Patrick, the senior member of the group, says he feels "blessed" to be a part of a series that has found success so early in its run. "The show ultimately is about how there is a solution to every problem, but these kids bonded quickly, and the chemistry is amazing," he says.
Back on the Griffith Park set, McPhee is spending the morning of her 31st birthday filming a grueling uphill run as Paige races to the scene of the crash. After breaking into a sprint on the fourth take, director Milan Cheylov calls "Cut" and McPhee's expression of concern is replaced with a glowing smile. "Did you all see that hustle?" she asks the producers. "You want to be on my team!" As the cast and crew gather to sing "Happy Birthday," it doesn't take a genius to recognize they all already are.
Scorpion, Season finale, Monday, April 20, 9/8c, CBS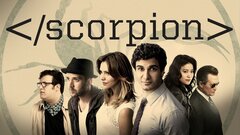 Powered by