'The Real Housewives of New York's Carole Radziwill Dishes Candidly on Her Catfight With the Countess
She may be a princess and connected to the Kennedy political dynasty (her late husband, Anthony, was JFK Jr.'s cousin), but Carole Radziwill has always seemed like one of the more down-to-earth and drama-averse stars of the Real Housewives since she joined the New York City edition in 2012.
But recently, the former ABC News journalist and bestselling author has found herself embroiled in a few unexpected feuds, first with leg-tossing lunatic Aviva Drescher (thanks to the foolish #bookgate controversy) and then with her friend-turned-enemy Luann de Lesseps. The feud with the Countess developed over Radziwill's relationship with Luann's chef, Adam Kenworthy, who was also an ex-boyfriend of Luann's niece, Nicole. Luann then released a song criticizing Carole for breaking the "Girl Code," and the catfight spilled over onto Twitter. All the drama culminated in last week's finale, when the Countess mocked Carole for not having any children. So much for mending fences.
In a candid conversation ahead of tonight's "Real Housewives of New York City" reunion show, part 1, Radziwill dishes on her withered relationship with the Countess, her burgeoning friendship with the show's hilariously-quotable lightning rod Bethenny Frankel, who returned to the series this season, and her memorable trip to London with new housewife Dorinda Medley.
In terms of your relationship with Luann deteriorating, did it really start after the season began?
Even with us doing the whole filming of the season, up until the very end at Turks and Caicos, we were fine. And yesterday at the finale, she even said, "Hey, I don't want this to get in-between us." And I was just like, "Okay, stop insulting me then." Stop judging my relationships, because people in glass houses shouldn't throw stones, but it's always people in glass houses that do throw stones, which always surprises me. It's like they're too busy looking at their reflection to see who they really are. And once you get enough stones thrown at you, you start throwing back.
The Countess really mellowed out and stopped putting on fake airs in the past few seasons. She'd become, dare I say it, much "cooler" since you and Heather joined the show. So what the heck happened to her at the end of this season?
I guess Heather and I made her cool. [Laughs] But I'm sad to say we are no longer friends. I genuinely considered her a friend and someone who I even saw when we weren't filming. I invited her to dinners and parties that I was having. I was shocked at how nasty she was, and I feel like the whole time we were friends that maybe [she] was phony. dYou know, I don't know. Maybe she always resented me. I can't quite get into her head now, and I'm not really interested in doing that. If anyone lost their cool, it was Luann. While I was shocked when it was happening, it doesn't run that deep for me now. It's all good. I have lots of friends that support each other. We have each other's backs, and we're not going around badmouthing or trash talking or running around saying, "Liar, liar, pants on fire." I mean, it's so juvenile.
It seems like she never made it known until late in the season that she was angry about you dating Adam.
There was a little bump in the road when I told her, but only eight days after I started hanging out with Adam. We had probably gone on three dates. I told her that we were spending some time together and we really liked each other. I understand that initial shock of, "Oh, gosh. Okay, this is news." Her niece did date Adam, although they had been broken up for a very long time, and Nicole was in a relationship with another man at the time and [she] still is with that same person.
But the way it all turned out, it was quite different than anything I expected. I was completely, using her word, "hoodwinked" by the entire thing. She had never mentioned to me in eight months of filming that she was mortally wounded and desperately hurt that I would dare date her niece's ex-boyfriend. I don't know why she felt hoodwinked. She knew from the very beginning. We were seeing each other the entire time. I think she was just surprised that we were in an actual relationship, and he wasn't just some random of guy that I was just going to have a good time with and then leave. But that's not how I roll. I think that's what shocked her more than anything else, and that's her own issue.
Has this kind thing ever happened to you before, with a friend who turns on you?
It has, but only on the show. In the first season, I honestly thought Aviva was my friend, and she went nuts, too. I don't know. These are good lessons for me. Not everyone's motives are clear and honest. It's actually been a good learning experience, if nothing else. I believe there is something I can take away from it.
Do you think the tension ended up getting amplified by all the Twitter sniping?
On social media she really got very aggressive and very nasty. I think the viewers know I'm not one to start a fight or get into any fake, weird drama. But if you're constantly attacking me and saying nasty things, and calling me pathetic and horny and disgusting, and age-shaming me, and basically using misogynistic kind of language, I'm not going to sit there and just say, "Oh, okay. Poor LuAnn. She's angry." Well, she might be angry, but she's also disrespectful.
Did social media fuel a lot of the fights, with all the Twitter commenters taking sides?
Anonymity breeds courage. That's all I can say about some of the people on Twitter. But I don't need to over-explain myself or be defensive or get everyone's approval. I know that some people won't approve of anything that I say, or they think that I'm the ugliest, skinniest, bucktoothed bitch on the planet, and that's okay. All I'm going to say is, "Listen to your mother when she says to wear your retainer."
What about you and Bethenny? You two really seemed to bond this year. You even had a sex dream about her!
She's adorable. One-on-one we have a good time. It's funny because, with a lot of the women, they seem to be the best versions of themselves when I'm with them one-on-one. In groups they tend to all get a little nuts, right? With Bethenny, we have become really good friends since she stopped filming. She's a great girl. She's a straight shooter. She definitely is a sharer, and I like that quality about her. It's similar to Heather, too. Hopefully I taught her not to be scared, to be a little bit more laid back in the way she deals with people. And she has taught me to be a little more aggressive and to stand up for yourself. She is very quick to say, "Wait a minute. What did you just say? Let me talk about that." With me, I never felt the need to be defensive, but I learned that sometimes you need to defend yourself a little bit, and it's okay.
RELATED: Bethenny Frankel Shares Why She Returned to RHONY
So you've learned to put yourself out there more and not be afraid to jump into it?
It's not that I'm afraid. It's just that I don't see the end result to be anything that I'm interested in. I'm not a woman who needs approval from a lot of different people. I never feel the need to over-explain myself, but I do think that there is value in a little bit of explanation, especially in the context of this show.
Were you pleasantly surprised by how well you got along with Dorinda?
It turned out to be so wonderful in that I really got to know Doris, the London version of Dorinda, and she's awesome. The fact that Dorinda was with me and we could talk so openly, candidly, and honestly about our mutual experience being young widows was really a blessing. There is something sort of magical and lovely and unique in talking to someone about a shared experience that's still relatively unexplored, certainly on reality television. I don't know any other widows in my life that have ever talked so openly. So that was a really nice, unexpected moment on the show. Sometimes it's kismet, and things work out on reality shows that are happening in real life. And this is about as real as you can get—other than the moment I had with Adam in the kitchen.
Yeah, it's pretty amazing that the first time you met your boyfriend, Adam, it was captured on camera.
I know! I mean, the fact that the cameras were there the second I walked into the kitchen and he turned around and said, "Hi, my name is Adam," [is] just hilarious. It was eight months later by the time [the episode] got on the air. So to watch that initial moment when we met was really like a little bit of magic. I think we had an instant chemistry, and to see that now, knowing how it all turned out, is kind of cool.
What can we look forward to in the reunion episodes? Can you tease us about any of the big developments or blowups that will happen?
There [will be] laughs, tears, screams and even hugs. Though not between Luann and me. Heather and I call her out about the Turks and Caicos incident, and that's an argument of epic proportions. I don't mince my words either. Bethenny and Ramona rehash a lot of their issues, and of course with Sonja, there is always something nonsensical that leaves all of us just shaking our heads.
So you and Luann fight it out at the reunion? Did she surprise you with any of the things she said?
Everything Luann says surprises me. The woman wrote a song called "Girl Code" while she plays around with married men. She is incapable of self-reflection, on top of being a hypocrite. All of the women know it; they just didn't say it as clearly as I did, understandably, because they weren't on the receiving end of her attacks. She continues her lament about my relationship with Adam and on that point we will never see eye-to-eye, which you will have to tune in to see why.
What's the crazy or funny thing that Ramona pulls at the reunion? Any hints about that?
I can't say exactly, but it's very Ramona-like. Completely unexpected, a little bit rude, but it came with a quick apology. I do have a soft spot for Ramona. She is a constant source of amusement for me. Love her or hate her, she really is an original. She's not pretending to be anyone else. She's not sitting around judging people. She's a kook, but she's more a lovable kook than anything else. We're all a little nuts. We are on a reality show after all.
The Real Housewives of New York Reunion Part 1 airs Thursday, August 18, 9/8c, Bravo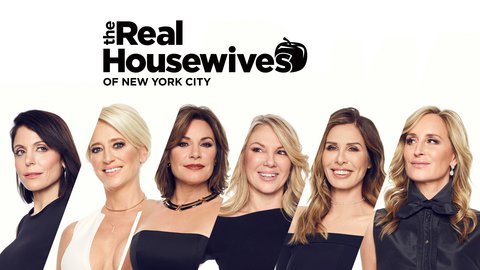 Powered by