First Look: Kenny Loggins Stops by 'Playing House' (PHOTOS)
Emma (Jessica St. Clair, left) and Maggie (Lennon Parham) enter the danger zone when '80s rocker Kenny Loggins appears as himself in the USA comedy's September 8 season finale of back-to-back episodes. The ladies memorably bonded in the first season over their love of the "Footloose" singer (see "Celebrate" from the season one pilot), and now they'll see him up close and personal when they go backstage at one of his concerts. It's about time!
In real life, Loggins' fiancée is a big fan of the show. As for finding inspiration to tackle the difficult role of playing himself, the Grammy Award-winning singer-songwriter says he didn't have to look far. "In the world of reality TV," he says, "everyone plays themselves!"
Last month, St. Clair shared an Instagram photo showing the title of a famous Loggins song ("This Is It"), which hinted at the "epic" upcoming event.
Playing House, Season finale, Tuesday, September 8, 10/9c, USA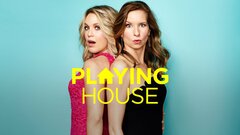 Powered by