Patrick Stewart Gets Silly and Shows 'Blunt Talk' Is Anything But Dull
Sir Patrick Stewart is not supposed to be funny. In fact, people have been telling him that since 1968, when he and another future knight, Ben Kingsley, got into big trouble with their small roles at the Royal Shakespeare Company.
"The leading players in our production of Much Ado About Nothing thought Ben and I were giving outrageously silly performances and filed formal complaints to make us stop," recalls Stewart with a boisterous laugh. "It's funny how a thing like that sticks with you. I steered clear of comedy for years, especially physical comedy, and came to feel that I had no talent for it at all."
So why is he starring in the outrageously silly Blunt Talk? The new 10-episode Starz series finds Stewart playing Walter Blunt, a blustery British newsman whose once-hot U.S. cable program is now in a ratings free fall—a crisis exacerbated by his fondness for liquor, cocaine and marijuana chocolates. And it sure doesn't help that footage of Blunt's arrest for soliciting a transsexual prostitute has made its way to YouTube. The 75-year-old Stewart, who throws himself into this randy, tragicomic chaos with the passion of a hormonal teen, credits the career-changing opportunity to Seth MacFarlane, Blunt Talk's executive producer and a longtime Stewart fanboy.
"Seth wanted to take my public persona and explode it," Stewart says. "The perception of me in America has largely been based on two very upright, supremely serious men—Jean-Luc Picard in Star Trek and Professor Charles Xavier in X-Men—and I was growing increasingly uncomfortable with that. I was ready to shake it up."
RELATED: Patrick Stewart Behind the Scenes of Blunt Talk
MacFarlane paired Stewart with acclaimed writer-producer Jonathan Ames (Bored to Death), who got the idea for Blunt Talk watching Piers Morgan bloviate on CNN. But this is no Piers parody.
"We're not here to skewer the world of cable news or any of its stars," Ames insists. "Nor is Blunt Talk the portrait of a fool. Walter is a wise, sweet, good-hearted man—a Don Quixote prone to disastrous choices. My goal with this series is not to be dark but to be uplifting, to always make people feel better."
That's Blunt's goal, too. A former combat hero who became a pacifist after his horrific experiences in the Falklands War, Blunt turned to investigative journalism "to show the world what it can be when it's at its best," Stewart says. "He rails against environmental pollution, genital mutilation, the death penalty, but always with great positivity for the future. In a time of overwhelming doom and gloom, Walter is a man of hope." That mission takes on messianic urgency when Blunt collapses one night during a broadcast and has a near-death experience in which the afterlife is a Busby Berkeley musical. He awakes more determined than ever to save mankind.
Of course, he needs backup. The high-strung Blunt is read to sleep at night by his loyal, and equally boozy, manservant Harry (Adrian Scarborough), and he frequently needs to lie down and spoon at the studio with his trusty executive producer Rosalie (two-time Oscar nominee Jacki Weaver).
"Rosalie has been Walter's rock for 20 years," Weaver says. "Now they have a real mother-son thing going on, but in the past they were quite intimate." Rosalie spreads that maternal love around. Not only is she dealing with a husband (Ed Begley Jr.) in the early stages of dementia, but she lets her needy junior researcher Martin (Karan Soni) nuzzle his nose in her ample bosom whenever he needs an emotional pick-me-up. "I wasn't familiar with the term 'motorboating,' and all the young people on the show found it hilarious that I am so clueless," says the Australia-born actress. "I'm not saying my generation doesn't do it where I come from. I just didn't know it had a name! I'm learning all sorts of things on this job."
Stewart also learned something new—and rather monumental—and it found its way into a Blunt Talk episode. "One day I was having a conversation with my wife, Sunny, and made reference to the fact that I am circumcised," Stewart recalls. "Sunny was stunned by that. 'No, you're not,' she said. 'Of course I am,' I replied. 'I should know! Don't be ridiculous.'" But Sunny was correct. "Soon after, I went to the doctor for a physical, and he confirmed I am indeed not circumcised," Stewart says. "I had been wrong all my life."
The actor shared this hard-to-swallow tale with Ames and—voilà—Walter will also be making the same shocking discovery. Only he'll do it live on the air. "The best comedy is always the truest," Stewart observes. "And the truth can be wonderfully wild."
Blunt Talk, Series premiere, Saturday, August 22, 9/8c, Starz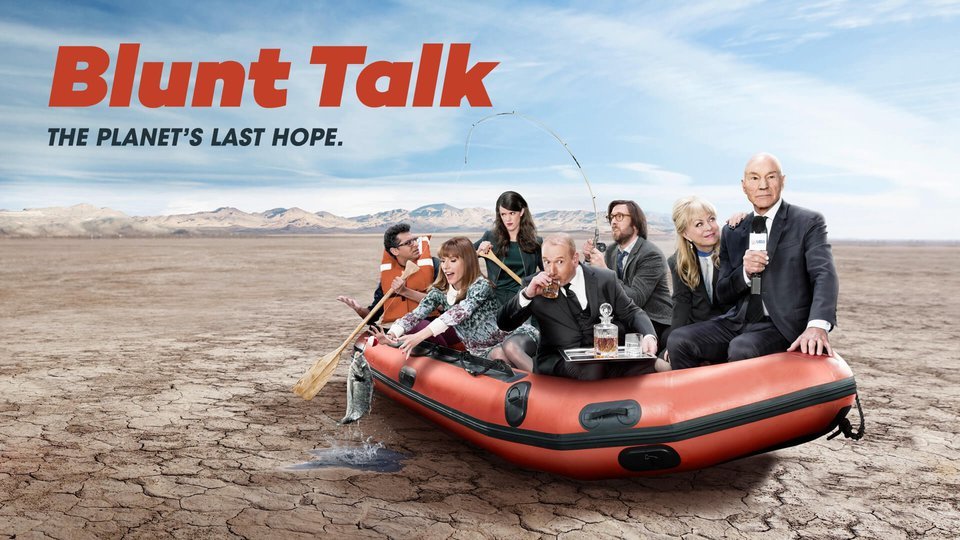 Powered by