First Look: Vertigo Brings 'iZombie' Back to Life With Omnibus Comic Collection
Most TV adaptations of comic books are fairly faithful to the source material: The on-screen adventures of Rick Grimes, Oliver Queen and Barry Allen are very similar to what we've read in the pages of The Walking Dead, Green Arrow and The Flash. But while The CW's iZombie has embraced the spirit of the original Vertigo series, there are major differences in the storylines. You can see for yourself in December when Vertigo, an imprint of DC Entertainment, releases a brand-new collection of the entire comic book run. (The TV series returns for its second season on Tuesday, Oct. 6.)
The iZombie Omnibus hardcover will include all 28 issues of the series by writer Chris Roberson and artist Michael Allred. It features a brand new wraparound cover by Allred (below), and if the art style looks familiar it's because he also designed the TV show's fabulous opening title sequence.
In the comics—as in the TV series—the main character is a young woman who has been turned into a zombie but manages to hold on to her humanity by periodically eating the brains of the dead. And, in both cases, she then assumes the personality traits and desires of the deceased. On The CW version her name is Liv Moore (get it?!), and she takes a job in the Seattle coroner's office for easy access to cranial cuisine. The original comic book character was Gwen Dylan, and she got her fix by working as a gravedigger in Eugene, Oregon. The comic book also took a much more supernatural twist involving mummies, were-terriers, vampires and a talking chimp.
You can see for yourself when the iZombie Omnibus goes on sale December 6. The hardcover collection is 672 pages and will retail for $75.00.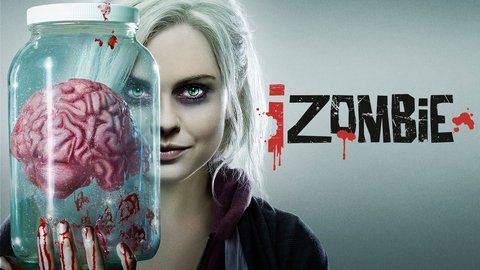 iZombie
where to stream
Powered by