'Happy Days' Star Don Most Gets 'Handy' on 'The Bold and the Beautiful'
This can't be good. Don Most, best known as Ralph Malph on the classic sitcom Happy Days, hits The Bold and the Beautiful August 25th and 28th as Pete, a handyman who shows up at low-rent Spectra Fashions after a small fire breaks out.
"It's an old building and there's something very dicey going on with the electrical wiring," says Most. "Pete keeps telling them he's no expert, but they don't want to spring for a real electrician. And then they hire him back a second time! You can probably see where this is going." (Indeed, Most's guest stint is just the kickoff for a big September event.)
See Also
Is 'The Bold and the Beautiful''s Sheila still crazy? Dr. James Warwick is back to find out!
There's also some flirty stuff happening between Pete and that conniving doyenne Shirley Spectra (Patrika Darbo), who says she has a thing for "burly men with tool belts." The next suds supercouple? Says Most: "I'd love to come back and find out!"
In the meantime, Most is reveling in a second career as a jazz-and-swing vocalist and recently released a CD titled D Most: Mostly Swinging. He's also prepping for a September 22 appearance at Vitello's, a top Los Angeles-area supper club. "I love those great standards from the '50s and '60s—the ones made famous by Frank Sinatra and Bobby Darin," says Most. "But this is no new venture for me. I used to sing in nightclubs in the Catskill Mountains when I was 15 years old. I love acting, but this is my first passion!"
The Bold and the Beautiful, Weekdays, CBS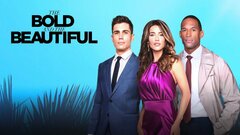 Powered by