'MasterChef' Preview: Shaun O'Neale is Back!
Winning a televised culinary competition is a difficult task, and no one knows this better than MasterChef Season 7 winner, Shaun O'Neale.
In this exclusive clip from the Aug. 9 episode, the former Las Vegas DJ stops by the MasterChef kitchen to offer advice to this season's contestants.
In addition to inspiring Nico, Sean plays a crucial role by choosing ingredients from his new cookbook to be a part of the mystery box challenge. The winner of the test receives a huge advantage, while the other chefs will wage culinary battle in a coconut-themed elimination challenge.
MasterChef, Wednesdays at 8/7c, Fox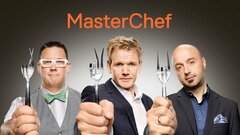 Powered by