'Documentary Now!' Parodies History With Fred Armisen and Bill Hader
The sounds of smooth, melodic harmonies echo through the cavernous backstage hallways of Inglewood, California's legendary Forum arena. Five vocalists dressed in vintage rags huddle together in a tight circle as if preparing to take the stage for a sold-out concert. But two familiar faces stand out in this band: Saturday Night Live veterans Fred Armisen, who has donned a mop-top wig and a retro Chicago White Sox jacket, and Bill Hader, sporting an epic mustache and long, wavy hair. The two comedians have transformed themselves into members of a fake '70s soft-rock group known as the Blue Jean Committee to film one of the six installments of their new IFC limited series Documentary Now!, which parodies the style and tone of famous nonfiction films.
"It's essentially a curated documentary series like PBS's American Masters," Hader says between takes. "But each one comes from a different era and is based off a different filmmaker and style, like Errol Morris or Vice."
Today's Blue Jean Committee episode is an homage to the acclaimed 2013 film History of the Eagles, which had the legendary rock band looking back on their glory days. Other episodes take their cues from 1975's Grey Gardens and 1922's Nanook of the North, the silent classic that explored Inuit life in the harsh conditions of northern Canada.
The idea was born out of a 2013 SNL sketch called "The History of Punk," in which Armisen portrayed an English rocker obsessed with Prime Minister Margaret Thatcher. "It was near the end of Bill and Fred's last season, and Bill mentioned that 'Punk' was the kind of show he always wanted to do: really hyperactive [fake] documentaries that weren't too jokey," says Late Night host and former SNL head writer Seth Meyers, who penned "History of Punk" and wrote three Documentary Now! episodes. "[We thought] Fred and Bill playing these subjects would be interesting enough, and the comedy would just come out of those characters' worlds. We weren't necessarily going for big laughs."
RELATED: Hulu's Hotwives of Las Vegas Satirizes the Housewives Franchise
Armisen, who writes and stars in IFC's sketch series Portlandia, insists the mimicry of the filmmaking style and the subject matter took priority over gut-busting humor. "I would rather it be confusing than funny," he explains. "I like the idea of someone turning this on and going, 'What is this?'"
But this is still a show that stars Fred Armisen and Bill Hader, so expect plenty of laughs, especially as the pair disappear into outrageous costumes and wigs. The men assume the roles of aging mother-and-daughter socialites in the premiere, the Grey Gardens spoof Sandy Passage, and Hader plays a senile 80-year-old cameraman who worked on the world's first documentary in the Nanook parody Kunuk Uncovered, a performance he calls his favorite of the bunch. "Obviously they're great comedians, but they're great actors here, too," Meyers says. "Over the course of the episodes, their range is so impressive."
Throughout the run, the duo will be joined by a handful of guest stars, including Jack Black, current SNL cast member Aidy Bryant and Mad Men alum John Slattery. "Because we were asking them to play it very straight, we found that people were pretty game to get involved," Meyers says. Producers also enlisted Academy Award-winning actress Helen Mirren—a big fan of Armisen and Portlandia—as host to introduce the different documentaries.
In addition to scoring big names, the project was able to shoot on location. Armisen and Hader traveled to Mexico to film the Vice-inspired Dronez: The Hunt for El Chingon, in which they play journalists out to expose a dangerous drug kingpin. (Black is their whiskey-loving media mogul boss.) They flew to Iceland for an episode that examines a small-town festival celebrating American gangster Al Capone. Says Meyers, "Some of the surprise stars are the Icelandic actors."
Back on the Forum set with the Blue Jean Committee, Armisen and Hader keep the harmonies flowing for a good 10 minutes as the cameras roll on the band's backstage routine of singing the same three-word phrase over and over again: "Freewayyyyy, riding along. Freewayyyyy, riding along." "Four more minutes!" announces Hader, getting his vocally weary costars to finally crack a smile. It's almost a wrap for the Blue Jean Committee, who just a few nights earlier played an impromptu gig at Los Angeles's Ace Hotel and even recorded a handful of soft-rock songs in the studio. For Armisen, who is also Meyers's Late Night bandleader, Documentary Now! serves as another outlet for his unique brand of comedy and music.
"This is a little sidetrack and a hobby," he says, noting that, as of now, there are no plans to extend the series. "It's British-style," he says of the small number of episodes. "There's no ambition, no 'Let's see [how it does].' It's more about making something good and enjoying it."
Documentary Now!, Series premiere, Thursday, August 20, 10/9c, IFC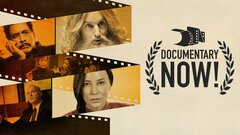 Powered by