'Wet Hot American Summer: First Day of Camp's Best Moments, Episode by Episode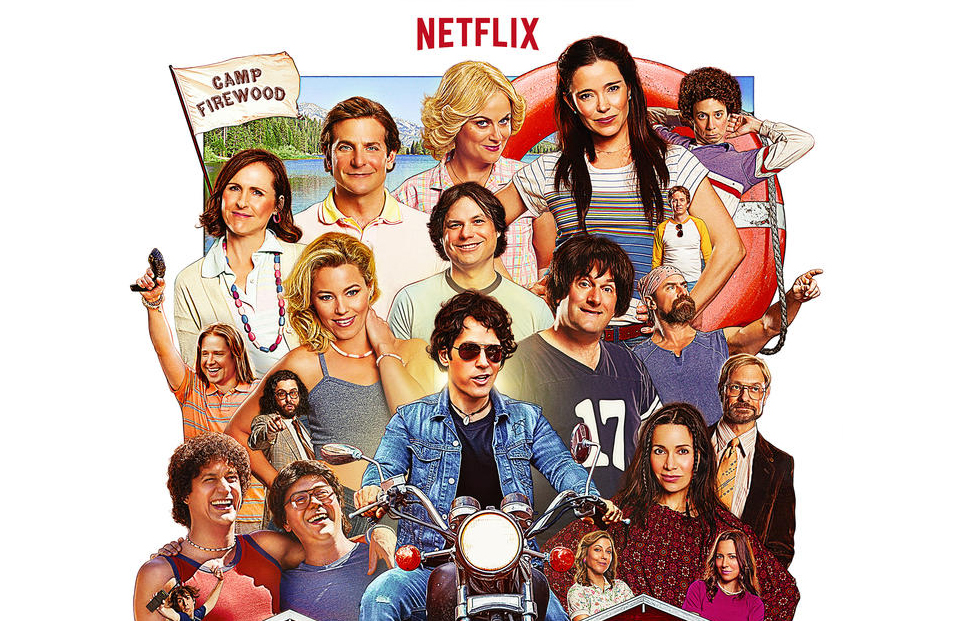 If you used your weekend to watch all eight episodes of the Netflix series Wet Hot American Summer: First Day of Camp, then it was time well spent laughing at all the hilarious, inane antics of one fateful day at Camp Firewood in 1981. But there's no way you caught everything because WHAS—like other clever Netflix comedies BoJack Horseman and Unbreakable Kimmy Schmidt—is packed to the brim with side jokes and sight gags.
We've found some of the best hidden gems you may have missed, probably because you were distracted by something else (which, let's be honest, was probably the talking can of vegetables).
RELATED: Wet Hot American Summer Characters, Then and Now
Episode 1: "Campers Arrive"
Camp Rules: Camp leader/future can of vegetables Mitch (H. Jon Benjamin) rattles off a list of sexual activities that the counselors and campers are not allowed to engage in. They include: "dry humping, necking, wet humping, finger banging, wheelbarrowing, the old one-two, the old one-two-three, the old one-two three-four, the Bavarian pretzel, Denver omelets, the double-double, the double-down, the triple-double, the double dip, the daily double, saltwater taffying."
Good One, Beth: Counselor McKinley (Michael Ian Black) describes camp director Beth (Janeane Garofalo) as "Marla Gibbs-level funny."
Back to the Past: A camper shows up for the first day in a DeLorean.
Episode 2: "Lunch"
Rock and Roll: We find out Lindsay (Elizabeth Banks) is actually a rock n' roll journalist, but some things are still the same about her. In a throwback to the original movie, her face is covered in BBQ sauce in her first scene.
Hey, Isn't That?: Lindsay's coworkers include the likes of Jordan Peele, Paul Scheer and Jayma Mays.
No, That Can't Be: Yep, that's director and co-writer David Wain as the new Israeli counselor with an inexplicable French accent, Yaron.
Episode 3: "Activities"
Best Ad Placement: "Try harder? What is this, the latest ad campaign for Avis Rent-a-Car? 'Cause that's their ad campaign."
—Beth to fellow counselor Greg (Jason Schwartzman)
Sickest Burn: "I've seen better leaps in a year!"
—Theater "pro" Claude Dumet (John Slattery) to dejected campers at auditions.
Accidental Sickest Burn: Greg whispers something about Gene (Christopher Meloni) to Beth, but covers the wrong side of his mouth.
Hey, Isn't That?: Yep, that's Michael Showalter pulling double duty as counselor Alan and President Ronald Reagan.
Episode 4: "Auditions"
Best Sight Gag: This helpful phone number given to Henry (David Hyde Pierce).
Hey, Isn't That: Yep, that's Weird Al Yankovich as a hypnotist who, just as we suspected all along, is actually just secret assassin Jon Hamm in a mask.
The Indoor Kids Return: The Indoor Kids from the original movie (the ones who really admired DHP's Henry) make a cameo as a bunch of punks at a convenience store who get blown up by Jon Hamm (as "The Falcon").
That's Rich: Camp Firewood rivals are the rich snobs over at Tiger Claw, including Katie's (Marguerite Moreau) jealous, popped-collar enthusiast boyfriend Blake (Josh Charles), who wears no fewer than three popped collar shirts. In one scene, Blake, along with his pals, literally just sit around a table and casually rip up money as an activity.
Reading Is Fundamental: When auditioning for the musical "Electro City," Katie reads from a book called "Monologues for Ingenues."
What's in a Name: Gail's future husband and ex-husband's (played by Randall Park) first name is Jeff. Jeff is also his middle name.
Episode 5: "Dinner"
The Law Talkin' Guy: Michael Cena plays a crummy lawyer named Jim who, despite not having a phone, presses his hand to his desk and asks no one to "hold all my calls."
Best Sight Gag: When Beth and Greg go into hiding to lay low from the government, they stay at a motel whose sign advertises an "on-the-lam" special. How convenient!
Hey, Isn't That?: Yep, that's Chris Pine as the camp legend and reclusive rocker Eric, who somehow has a fully-stocked fridge full of Tab in his secret cabin.
Best Sound Gag: A recurring gag throughout the series and the movie: whenever someone throws something, it makes a glass-shattering sound. This time, it's Eric throwing a can of Tab.
Episode 6: "Electric City"
Exhibit A: Greg and Beth win their case by having a damning piece of evidence: a giant floppy disc. What's on said disc? Doesn't matter! Case dismissed!
Back to the Future: The prosecutor in Beth and Greg's case inexplicably has an iPhone, despite this being 1981.
Episode 7: "Staff Party"
Say What Now?: Yaron misinterprets the word "rad" and insists Alan's shirt is more "maroon" than "red."
Come Again?: The Tiger Claw counselors inexplicably change their "Tiger Claw" chant to "Träger Clau!"
Episode 8: "Day is Done"
A Mob Scene: When Tiger Claw comes over to Camp Firewood for a fight, their battle gear includes croquet mallets, tennis rackets, lacrosse sticks and an oyster fork.
A Familiar Tune: Eric comes up with his great song, "Higher and Higher," which as WHAS fans all know, plays a major part in the original movie: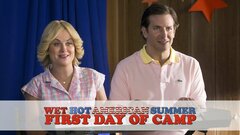 Powered by