Camp Heats Up in the 'Wet Hot American Summer' Prequel
Here's the thing about TV prequels to movies: By necessity, they usually feature a completely different cast from their source material. Tom Hardy won't be showing up on Gotham as a preteen version of his The Dark Knight Rises character, Bane, anytime soon. Ditto Psycho's Janet Leigh on Bates Motel. Wet Hot American Summer: First Day of Camp, Netflix's eight-episode prequel to the 2001 film Wet Hot American Summer, about the horny kids and counselors of a 1980s Maine sleepaway camp, is another story.
"When we did the movie 14 years ago, we were in our thirties portraying teenagers," says cowriter and executive producer Michael Showalter, who also reprises his role as awkward counselor Coop in the series. "We thought it would be funny if we were now in our forties and playing characters that were younger than they were in the original."
Thus, most of the film's actors are back playing their old parts, including Bradley Cooper and Amy Poehler (now an Oscar and an Emmy nominee, respectively) as drama nerds Ben and Susie, Paul Rudd as stud Andy, Elizabeth Banks as slutty Lindsay and Christopher Meloni as crazy-eyed Gene, a former soldier and the camp's awful chef. Gene's backstory is one of the show's most surprising: Apparently, he was once a soft-spoken man who could cook, wore pastel pants and was engaged to art teacher Gail (Molly Shannon). Then an event at the camp changes everything. The series also has some new faces, like Lake Bell as Coop's manipulative girlfriend, Jon Hamm as an assassin and Chris Pine as a burned-out musician rumored to live in the woods nearby.
Getting this great cast together, however, meant a few changes. The movie was filmed at an actual summer camp in Honesdale, Pennsylvania. But the series was shot closer to Los Angeles at the Calamigos Ranch in Malibu. That's where being based on a 14-year-old cult film paid off. "Many of the crew members were fans of the film when they were young," director and cowriter David Wain says. "And now, several years later, they lovingly and dutifully re-created the set, the costumes and the whole look and feel of the original film."
Meanwhile, Showalter and Wain (who both attended sleepaway camp in their youth) mined their own memories for material—no matter how mortifying. "There's a storyline about a young camper who makes a doo-doo in his swim pants," Showalter says. "That happened to me in third grade. It was really embarrassing. It was the worst experience of my entire life!"
Wet Hot American Summer: First Day of Camp, Friday, July 31, Netflix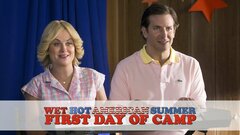 Powered by