Jackie Long Gets Crazy (in Character) on 'Real Husbands of Hollywood'
Actor Jackie Long is just as funny as the outlandish, scene-stealing version of himself he plays on Kevin Hart's faux reality show, Real Husbands of Hollywood, which returns for Season 4 tonight. But unlike his television counterpart, Long isn't broke. He doesn't owe money to almost everyone in Los Angeles. And no, he doesn't act as Hart's de facto assistant in exchange for food and shelter. We asked Long about other differences between him and his "character" and found out what's ahead for the Husbands.
How close is the real Jackie to the TV Jackie?
Him being a mama's boy is real, real close to me. But he lies much more—because he owes things to so many people! People will always look at me like "Are you crazy or not?" And I'm like, "Yeah, I did that for the show!"
In the past, Jackie has attended an underground celebrity fight club…and partied with circus people. What's the craziest thing Jackie does this season?
Jackie does a lot of crazy things in Season 4, starting off with his hair. He grows a real long, high flattop. I had to grow my own damn hair that way.
What'd you think of the new look?
It was all jokes on the set when I did it. It ended up looking cool to me certain days, and certain days I was like, "I will cut this s—t off!" I've already got a long head with a long face and a long chin, so it just made my head look even more long, and my last name is Long, so everything was very long. [Laughs]
This season features cameos from many celebrities, including Paula Abdul, Faith Evans and Terry Crews. Who would be your dream guest star?
Eddie Murphy. I love him to death. And I want to meet Michael Jordan. I think I'd be a little nervous and goofed out. I might just stare at him for 20 hours until he said, '"What are you staring at?" And I might say, "You're Michael Jordan. I ain't never seen you, man, and I didn't know your head was this shiny!"
Real Husbands of Hollywood, Season premiere, Tuesday, August 18, 10/9c, BET
RELATED: Hulu's Hotwives of Las Vegas Skewers the Real Housewives Franchise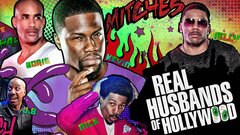 Powered by