'Downton Abbey': Cast and Producers Say Goodbye
Before Downton Abbey shutters its doors for good, the cast and producers gathered at the Television Critics Association press tour on Saturday evening to reflect on the popular PBS period drama's six season run. While the panel was light on plot details, the emotions ran high as the actors shared their favorite moments and memories from the set.
Production on the sixth season concludes in two weeks, but many of the stars have their eyes on trinkets from the set that they want to take home with them permanently. "I want to take most of the set home from the newspaper office," said Laura Carmichael (Lady Edith). "I'd like to take one of the mustard pots from the dining room," said Hugh Bonneville (Robert Crawley), explaining they played a key role in a behind-the-scenes murder mystery game the cast would play with each other.
Most actors first realized the end was near when production wrapped at the Highclere Castle location a couple of weeks ago, and Michelle Dockery joined Carmichael for a final walk around the grounds. "We didn't want to leave," Dockery said. "We even sat on Matthew's (Dan Stevens) bench and we had a bit of a cry."
The spirit of departed characters including Matthew will not be lost as the show embarks on its victory lap. "We've never lost their memory, and their children are starting to become characters themselves," said executive producer Gareth Neame.
But could the world of Downton Abbey live on in movie form? Neame hinted it is a very real possibility. "I think a Downton Abbey movie could be a wonderful thing, but we don't have a script or plan as of yet," he said. "There are no firm plans at all."
More TCA Coverage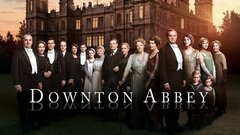 Powered by