Couples Feel the Burn on 'Extreme Weight Loss: Love Can't Weight'
For most couples, the "something new" at their wedding isn't a completely overhauled physique. But that is exactly what's in store for the betrothed pairs on Extreme Weight Loss: Love Can't Weight, three stand-alone editions of ABC's docuseries about morbidly obese people making dramatic life changes. Helping them drop all those unwanted pounds: married trainers Chris and Heidi Powell, who'll spend six months working over their subjects before sending them down the aisle. Here, they help us feel the burn.
Saying "I do" is stressful enough without a weigh-in on the big day. How intense will this get for the couples?
Heidi: Weddings bring up a lot—happiness, excitement, fear of the unknown. When people are going through all of that, plus this transition? You'll see every emotion you can possibly think of!
Did it make you examine the state of your own union?
Chris: Without a doubt. The couple in the first episode, Cain and Tiffany, resonated with us the most.
Heidi: They had such a competitive nature between them. Chris and I are like that. I thought it was healthy—but seeing it from this perspective, I realized it's not.
What was the reaction when the participants found out that a celebrity "dream team"—chef Rocco DiSpirito, event planner David Tutera, and cake maestro Duff Goldman—would also be part of their journey?
Heidi: The girls were shocked to have people from television creating their wedding days! But the guys could not have cared less.
Only two of the three duos make it to the altar. Was that a surprise?
Chris: We weren't expecting it, but we had to remind ourselves that our goal here is to make them happy and healthy. So if getting married wasn't in their best interests, we couldn't force them to…
Heidi: …just because David Tutera planned it!
Extreme Weight Loss: Love Can't Weight Series premiere Tuesday, June 23, 9/8c, ABC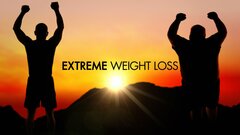 Powered by