Forged in Fire Puts Blade-Makers to the Test
What is it about knives? Why does a 6-year-old boy dream of wielding Excalibur, while his 12-year-old brother begs for his first pocketknife?
The quest to possess such steely greatness is the launchpad for Forged in Fire, History's new reality competition pitting the nation's top bladesmiths against one another in a battle to win $10,000. The format is similar to Chopped (which could just as well be this series's title): Four skilled craftsmen compete in three rounds of challenges to determine who's the grand master of the blade. "You get to see the blood, sweat, tears, craftsmanship, and artistry that go into making these blades," executive producer Tim Healy says.
In the first challenge, contestants must make their blades—with each one given a unique twist. In the second round, a handle is added, as well as finishing touches to make the blade ready for testing. The competitors are allotted three hours for each of these rounds, while a panel of experts—including David Baker, an authority in replicating period weaponry, and J. Neilson, a master smith from Pennsylvania—provides play-by-play commentary. "There was no way to use judges who didn't love blade making, because they would never sit there for that long," Healy says with a laugh.
But it's in the final round that the contestants must stay really sharp: The top two contenders are sent back to their forges and given five days to make a specific historical weapon, such as a Japanese katana (The Walking Dead's Michonne is a fan) or an Indian chakram (the Frisbee-esque weapon that Xena: Warrior Princess loved).
Of course, with such lethal objects around, there's bound to be some bloodshed. "One day at lunch, I was talking to my judges, and they just started showing me the scars on their hands. It was like that scene in Jaws where they're comparing their scars with Quint," says Healy. "There's definitely some nicks, cuts, and burns!"
Forged in Fire, Series premiere Monday, June 22, 10/9c, History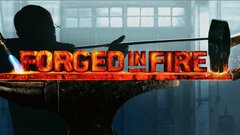 Powered by