Get a Sneak Peek of History Channel's 'Forged in Fire' (VIDEO)
Things are heating up on History tonight, as Forged in Fire makes its return. The second season of the Chopped-style competition, in which bladesmiths create iconic weapons, begins at 10/9c with a war hammer as the guest of honor. But before you tune in, allow host Wil Willis to amp you up.
What was the biggest challenge this season?
Look, I respect all of the bladesmiths who compete on this show, but I have to be honest, no one has ever had a challenge bigger than the smiths who worked the coal forges. Spoiler or not—that was a gnarly day. They used ancient techniques to forge blades in a timed competition? Move over, bacon… that was badass!
Now that you have a season under your belt, has the competitive level been raised?
The bar was definitely raised this season. There were tougher challenges and more surprises for the competitors. But that didn't seem to affect the brotherhood that these smiths share. They work alone for the most part and when you put them together in the same room, they all have metal manipulation in common, so there's camaraderie. To be honest, I think that they do better work when they're relaxed and enjoying shooting the breeze with one another on the forge floor. That kind of friendly competition brought around some beautiful craftsmanship this season.
Favorite thing that happened this season?
Only because it kicks off the pyrotechnics in the forge, my favorite memories are anytime I got to say the line, "Your time starts… now." I should trademark that… Dibs.
Interest piqued? Check out this exclusive sneak peek from the season premiere, which sees contestants dumpster diving for metals from which they'll have to craft their signature weapons.
[jwplatform auIhgkaa]
Forged in Fire, Season premiere, Tuesday, Feb. 16, 10/9c, History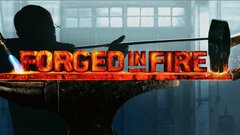 Powered by