'MasterChef' Preview: Gordon Ramsay Hates Halibut Skin and Makes It Known (VIDEO)
In the Aug 2 episode of MasterChef, the series welcomes purveyors of fresh, local ingredients—ranging from butchers, fishmongers and vegetable farmers, to beekeepers and herb growers. After the home cooks divide into two teams, they prepare dishes using the guests' own ingredients.
And in this exclusive clip, MasterChef host and head judge Gordon Ramsay isn't digging the menu proposed by Caitlin's blue team.
Which do you think is the bigger culinary faux pas: skin-on halibut or ricotta with fish?  Caitlin looks determined to steer her team into disaster, despite Chef Ramsay's not-so-subtle encouragement to change the dish.
MasterChef, Wednesdays, 8/7c, Fox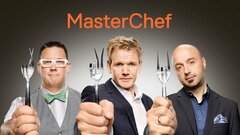 Powered by