Peter Stormare and Keanu Reeves Face Off in Pop's New P.I. Comedy 'Swedish Dicks'
In Pop's new Scandinavian import, Swedish Dicks, Peter Stormare stars as Ingmar, a down-on-his-luck stuntman turned private investigator languishing in the City of Angels. But don't expect a hard-boiled, True Detective–style gumshoe tale. Hilarity ensues when one of Ingmar's jobs brings him into contact with Axel (Johan Glans), a buffoonish DJ and fellow Swede, and the two decide to team up.
Stormare—last seen playing a potentially deadly game of checkers with Ricky Whittle's Shadow in American Gods—originally conceived the show, which premiered in Sweden last fall, as an hour-long drama with some comedic elements. But it was showrunner and cocreator Peter Stettman who convinced him of the benefits of a tighter 30-minute format. "He said, 'We can do this our way if we go for half hour,' and I said, 'Let's do it half hour!'"
The series also features Stormare's John Wick 2 costar Keanu Reeves in a recurring role as an antagonist from Ingmar's past, as well as Traci Lords (Cry-Baby) as Jane McKinney, a rival PI who really shouldn't underestimate the Swedes. "Jane believes [Ingmar and Axel] are a couple of bumbling fools," says Lords. "As the season progresses you start to see that these two idiots are not really idiots after all. They have their own peculiar brand of genius, and it starts to unveil itself."
The result is what Vivian Bang, who plays Ingmar's North Korean office manager Sun, describes as a cross between old-school film noir and Monty Python.
But Stormare also sees the show as a love letter to the parts of Los Angeles that most of us don't get to see on TV and in movies. "I didn't want to show the Hollywood sign, Venice Beach, the Santa Monica Pier, Rodeo Drive," Stormare says. "I wanted to show the nooks of this city that still are so beautiful to me, the places I love that no one else sees."
Check out video of our exclusive chat with Reeves, Stormare and Glans below.
Swedish Dicks, Series Premiere, Wednesday, Aug. 9, 8/7c, Pop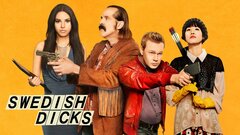 Powered by