What's On: A Fateful Meeting on 'Game of Thrones,' HBO's 'Room 104' Anthology, 'Teen Wolf' Nears its Final Howl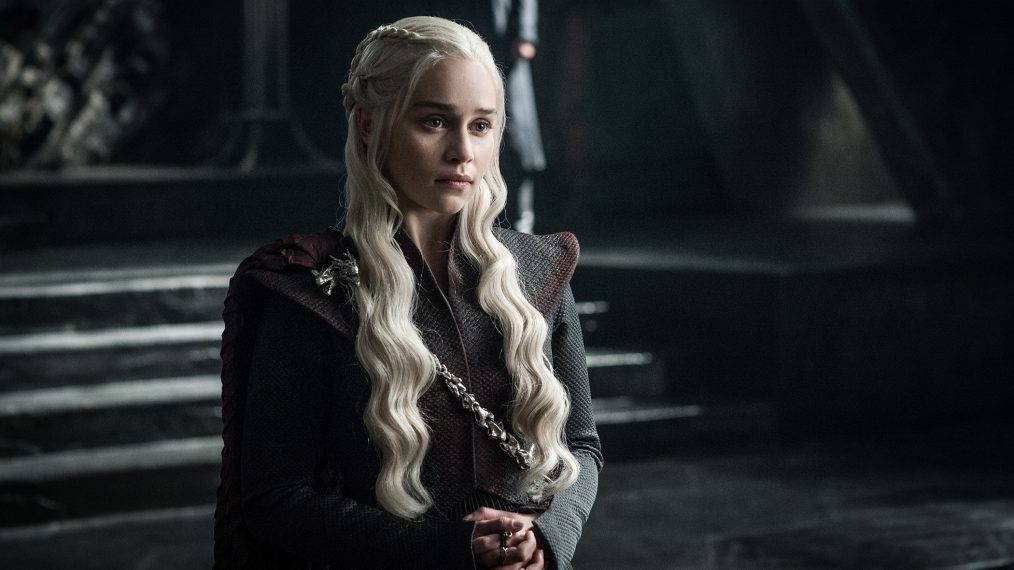 Game of Thrones (Sunday, 9/8c, HBO): All signs point toward the long-awaited first meeting of the Mother of Dragons, Daenarys (Emilia Clarke), and the King of the North, Jon Snow (Kit Harington)—and considering how long it took Dany to sail back toward home, kudos to the Stark bastard (with unbeknownst-to-him Targaryen blood) for not wasting any time in heading with his loyal companion Davos (Liam Cunningham) to Dragonstone. Photos released this week suggest that a fateful encounter will occur when (in HBO's cryptic plot description) "Daenarys holds court." In other news, Cersei (Lena Headey) returns a gift—and could that have anything to do with Euron (Pilou Asbaek) and his brutes capturing the vixen Ellaria Sand (Indira Varma), who's responsible for the murder of Cersei's beloved daughter? These games are getting fierce.
Room 104 (Friday, 11:30/10:30c, HBO): The Duplass Brothers (Mark and Jay) are behind this curious anthology series of half-hour vignettes all set in the same nondescript room of an unnamed motel "off the parkway." The episodes range in tone from comic to artsy to spooky, the latter describing the premiere, "Ralphie," in which a babysitter (Melonie Diaz) is left in charge of an odd little boy (Ethan Kent) and his sinister imaginary—or is he?—friend. Kind of Twilight Zone-like, except there's no point to it. Mostly, Room 104 makes me miss Bates Motel.
The Last Tycoon (nine-episode season streaming Friday, Amazon): More suitable for a leisurely wallow than an obsessive binge, the latest stab at adapting F. Scott Fitzgerald's unfinished novel skewers the hypocrises of 1930s Hollywood. It's glorious to look at but glacial to behold, only sporadically catching dramatic fire as it reveals the dark side of a romanticized era. Matt Bomer is the golden-boy producer clashing with studio boss Kelsey Grammer, but it's Rosemarie DeWitt as Grammer's dissatisfied wife who best captures the era's swank cynicism and walks away with most of her stolen scenes.
Teen Wolf (Sunday, 8/7c, MTV): Admittedly getting a bit long in the sharpened tooth, the horror series embarks on its final 10 episodes with Scott (Tyler Posey) and his pack about to depart for college when a mysterious new enemy makes its presence known. That would ruffle anyone's fur.
Grantchester (Sunday, 9/8c, PBS, check local listings at pbs.org): The third season of this splendid British mystery series ends with the case of a missing child providing a catalyst for Sidney (James Norton) to choose between his faith and his love for Amanda (Morven Christie). A climactic wedding promises to bring romantic resolution for others in the vicar's inner circle.
Inside Weekend TV: In anticipation of the August 26 bout between boxing great Floyd Mayweather and UFC's Conor McGregor, Showtime's weekly All Access: Mayweather vs. McGregor (Friday, 10/9c) goes behind the scenes of the fighters' training regimen and publicity tour. … Smithsonian Channel's The Lost Tapes: Son of Sam (Sunday, 9/8c) marks the 40th anniversary of the 1977 manhunt for the notorious New York serial killer. In Lost Tapes tradition, real-time news reports and home video footage tell the story with unadorned immediacy. … Celebrity chefs Curtis Stone and Rachael Ray face off on ABC's The $100,000 Pyramid (Sunday, 10/9c), but the more intriguing match comes later, with David Arquette going up against the flamboyant RuPaul. … Since sleeping with her ex, Issa (Issa Rae) has never been more Insecure (Sunday, 10:30/9:30c, HBO), and same goes for Lawrence (Jay Ellis).