Sneak Peek at the Phineas and Ferb Finale, and What's Next (VIDEO)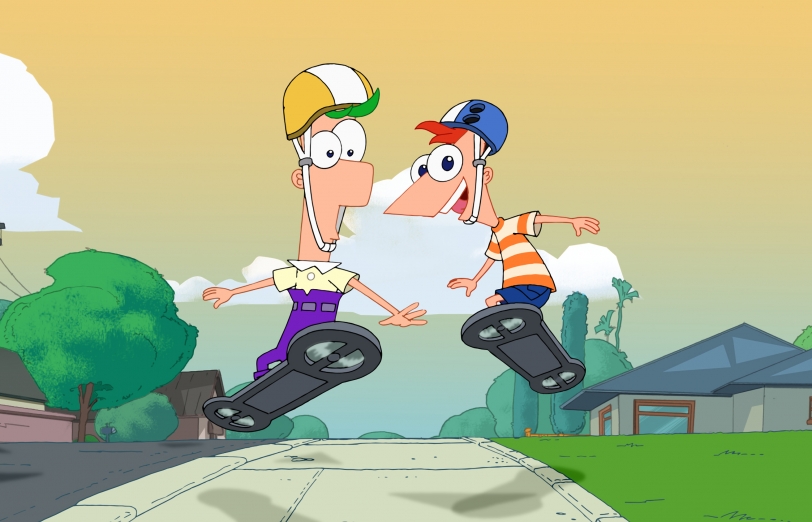 Where's Perry? They've spent the summer (and over 126 episodes) building a rollercoaster, traveling to outer space, playing with time travel, discovering the lost city of Atlantis, opening the hippest restaurant in the Tri-State area and saving the world with the help of Marvel superheroes.
But it all ends tonight for Phineas and Ferb, the critically acclaimed Disney toon that ends its eight-year run with one final adventure. "Last Day of Summer" takes place the day before school starts, but in homage to Groundhog Day, a Dr. Doofenshmirtz invention threatens to repeat the day over and over in a loop. In the end, it's up to Candace–who has spent the summer trying to bust her brothers–to save the day.
Phineas and Ferb creators Dan Povenmire and Jeff "Swampy" Marsh are now at work on their next animated Disney series, Mikey Murphy's Law. But they also admit it's been hard to say goodbye to Phineas and Ferb.
They'll get one more chance next month: TV Guide Magazine has partnered with Disney XD to present the San Diego Comic-Con panel "The Last Day of Summer: TV Guide Magazine's Farewell to Phineas and Ferb," an opportunity for the producers and cast to pay tribute to the show and its legion of fans.
We spoke to Povenmire and Marsh about the finale (which airs Friday at 9/8c on Disney Channel and Disney XD), and what the future might hold for Phineas and Ferb and company.
The Phineas and Ferb finale ends on a bit of an emotional note.
Povenmire: I hope so, it does for us, at least.
Marsh: We cry every time. I think we fooled ourselves into thinking, "this time it will be fine, we won't cry!" And then we cry again.
Phineas and Ferb has utilized quite a lot of music over the years; in the finale, you manage to wrap up the entire series in song. [See our exclusive clip of the last musical number below.]
Povenmire: What I like about the song is not only do we get to encapsulate everything that happens in the series and remind people of all the fun they've had, but we get a chance to say "thank you," literally, to the fans. Just because of the nature of our show we're able to do that. Most shows never get to do that. But our characters literally address the fans and say, "Hey, thanks for coming along on this journey!"
Marsh: When you've got a show that was so wonderfully received by people all over the world, it's very much a genuine "thank you." That support allowed us to continue to grow and take risks and take chances with these characters. We wouldn't have been able to do that if it had just been a moderate success. If people had not really embraced it the way they did.
[jwplatform 32brf7Rc]
There's a hint in the song that this might not really be the end. Should we read anything into that?
Povenmire: Disney did make us do a finale that didn't actually end. That's just in case they might one day continue. Perhaps they'll want to do the next summer, the school year or anything at some point in the future. We would certainly be up for it, so we'll see what happens. They've stopped making new episodes of Scooby-Doo six times I think, and they're now making Scooby Doo again. So it's entirely possible they may come back.
And with animation, characters are ageless, so the return could be seamless.
Povenmire: Exactly. Family Guy was off the air for three years and then one day I got a call from Seth MacFarlane, "hey, we're putting the band back together!"
The finale is a classic Phineas and Ferb conceit, playing with space and time, and traveling to different dimensions. Why the Groundhog Day homage?
Povenmire: We had thought about doing a Groundhog Day thing for a while. It's one of my favorite movies and there's a book called Replay (by Ken Grimwood) that's one of my favorite books. And we felt that was a great thing to do for the last day of summer, because the day could literally last forever. It's the very last day, so let's repeat it as often as possible. And then the whole idea of things getting stuck in a place where time isn't moving and nothing's really happening was inspired by The Langoliers, a Stephen King novella.
Marsh: Kids love Stephen King references.
They're also big on Capri pants references, which you have quite of in this episode.
Marsh: Absolutely, kids find Capri pants hysterical.
Povenmire: I didn't even know what Capri pants were until someone pitched that joke.
You end the episode with the idea that Doofenshmirtz might be ready to go legit. Did you want to end the series with at least one character undergoing a major change?
Povenmire: We've always felt that Doofenshmirtz is not really evil, he's just looking for attention. I think it was fun to have Vanessa [Doofenshmirtz's teenage daughter] be the one who really understood that about her dad. It also sets up our one more hour-long special, a standalone episode featuring Doof and Perry the Platypus working together. [The special, The O.W.C.A. Files, airs this fall on Disney XD.]
So is this it for now with Phineas and Ferb?
Povenmire: We'll take a break from those guys for a while and see what happens. I would certainly be up for revisiting them at some point, but we have done an awful lot of those shows. Let them have an end to their summer.
Given the long production time necessary for animation, you've been living with this finale for a while now. With the last episode now set to air, is it bittersweet, realizing this is truly the end?
Marsh: Everything for the past year and a half has set us off a little bit. Little things will happen and choke you up.
Povenmire: When you're on a live action sitcom, everyone is there to the last day. Someone calls it a wrap, they have a big party and then they go their separate ways. When you end an animated show, it's more like a long, degenerative illness–where different parts of your body just go away at different times. There was the last pitch, then the writers left, then the last animatic and some of the storyboard people started leaving, and then the last voice records for everyone. There are all these "lasts." And we had gone through all of those with varying degrees of bittersweet sadness. But we had never been allowed to talk about the show ending because they hadn't announced it yet.
How's the new show going?
Povenmire: We are just starting off. We are still writing, we haven't even hired our art staff yet. They're telling us it will premiere in early 2017.
Marsh: It's still early days, so watch this space.
Povenmire: We're feeling the ramp up into craziness happening.
Next up, TV Guide Magazine will help you say one last farewell to the fans, via a goodbye panel at Comic-Con.
Povenmire: At the last Comic-Con we knew the show was over, but we couldn't tell people. So it was a little sad for us to not be able to have a final panel. So this will be really great.
Marsh: It will be a proper farewell.
"Last Day of Summer," the Phineas and Ferb series finale, will be simulcast on Friday at 9/8c on both Disney Channel and Disney XD.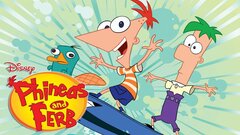 Powered by