Samantha Bee: What the Mooch Hath Wrought (VIDEO)
On Wednesday night's Full Frontal, Samantha Bee introduced us to brand-new White House Communications Director Anthony Scaramucci, a.k.a. "the Mooch," who is here to fire everyone and eat an elephant, apparently.
"Unlike Sean Spicer, who tried to control his exuberant charge, the Mooch is taking the stepdad approach and giving him unlimited screen time," Bee said of Scaramucci's plan to just let Trump be Trump.
The result? A week of unfiltered Trump that included the President's Twitter fiat declaring that U.S. military would no longer "accept or allow" transgender service members "in any capacity," a senselessly discriminatory action that drew immediate bipartisan criticism.
"Firing thousands of active duty service members in the middle of the big push against ISIS was Trump's version of Don't Ask, Don't Tell," Bee comments. "He didn't ask anyone if it was a good idea, and he didn't tell anyone he was gonna to do it."
Check out the Full Frontal clip below—and maybe think about donating to the Transgender Legal Defense & Education Fund or the National Center for Transgender Equality.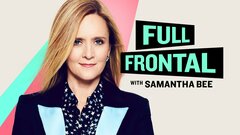 Powered by