Unbreakable Kimmy Schmidt: Season 2 Scoop
She was held captive for years by a charismatic cult leader, and is now taking control of her own life. Unbreakable Kimmy Schmidt's optimistic lead character may be one of the strongest-willed in all of television.
Speaking at an Emmy "For Your Consideration" event on Monday, Ellie Kemper, star of the Netflix comedy, told the audience that she managed to strike the proper balance for Kimmy: Naïve, yet self-aware.
Kemper joined fellow cast members Jane Krakowski, Carol Kane, Laura Adams, and Sol Miranda, as well as executive producer Jack Burditt, on the panel, held at Hollywood's UCB Theatre. With show creators Tina Fey and Robert Carlock back in New York, and fellow castmember Tituss Burgess at home fighting laryngitis, the rest of the cast and producers shared secrets from the first season, hints for next year, and stories about what it's like working on the wacky and colorful comedy.
TV Guide Magazine and TV Insider chief content officer Michael Schneider moderated the panel. Here are some highlights:
• Although Burgess was home sick in New York, he used a video conference site to briefly appear on screen and answer a few questions. Reclining on a Netflix pillow at home, Burgess discussed his character's repertoire of songs from Season 1, including fan favorite "Peeno Noir." Burgess had another favorite, however: "I loved the Spiderman song," he said, "because it's so stupid."
Viewers discovered in the season finale that openly gay Titus had once been married to a woman–but ran away from her. Burgess said he could only imagine what else will be revealed in season two about that union: "I suspect he ran away from her early on in the marriage. He's running away from the fact that she doesn't have peeno noir." His favorite moment from season one? Working with "the beautiful and delicious Ellie, Carol and Jane."
• In reuniting with 30 Rock's Fey and Carlock for Kimmy, Krakowski said she loved the idea of "getting the band back together." On the differences between her 30 Rock character, Jenna Maroney, and Kimmy's Jacqueline Voorhees, Krakowski noted, "Jenna was prettier but older than Jacqueline. We tried to make them as different as we can. Jacqueline is like a Sondheim musical, Merrily We Roll Along backwards. Jenna was a monster."
Krakowski said she also appreciated Jacqueline's Native American heritage and how the character struggled with her past. "I think there's such depth and sadness that she wanted something so much that she changed her entire looks and identity," the actress said. "I thought that was an amazing brilliant backstory for her."
Krakowski also commented on the flashback scene to Jacqueline's teenage years–in which Kimmy's stylists put her in a wig identical to the hair the actress actually wore in 1983's National Lampoon's Vacation. "That's why I love working for Tina and Robert – it's the only place where me at 46 could play my 14 year old self."
Will Jacqueline sing? "I've been told no, because Jacqueline is tone deaf," Krawkowski said. "But you guys could start a letter writing campaign."
• Kemper was nervous at first working opposite Kimmy's Jon Hamm, who was actually served as her high school improv teacher in St. Louis. "When he came to play this horrific, monstrous character and he was so funny doing it, it was surreal and I was very nervous because he's still like, a teacher."
Miranda, who plays Mole Woman Donna Maria, referred to him as Mr. Hamm. "He had a lot of freedom to say wild lines and some of them were really x-rated, really out there," Miranda said.
• Carol Kane, who brought her dog Johnny to the panel, has been busy this year, working on both Kimmy and Fox's Gotham. Her Kimmy character, Lillian, has no filter: "I asked Tina once, why is it I don't like women? And Tina walks away, goes back to the writer's room and writes something else offensive for me!"
• The curly black wig Fey wore as the Marcia Clark-like character in the Kimmy trial scenes is the same wig she wore on 30 Rock for the Liz Lemon flashbacks.
• Where do Kimmy's unconventional songs come from? "It comes from a room full of weirdos," Burditt said, referring to the show's writers. Fey's husband Jeff Richmond, who also composed the music for 30 Rock, is also behind Kimmy's tunes.
• What did Kemper learn from the first season? "I learned a lot about New York Teamsters. Don't ask a lot of questions."
• Season 2 of Kimmy Schmidt will premiere in 2016. Burditt teased that the relationship between Kimmy and Dong will be explored, and Titus' and Lillian's backstories will be revealed. The show will also introduce Kimmy's absentee mom. And as a nod to Kimmy's Netflix home, Burditt says the show will likely plant more early gags that will pay off in later episodes.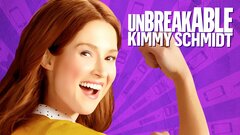 Powered by