Report: 'Banshee' to end with season 4 Cinemax hasn't confirmed it, but TV Line reports that the eight-episode Season 4 will be the action-drama's last season.
Crawford will serve only as producer on the proposed series, tentatively titled Icon. She won't be making a cameo appearance.
"F*ck Yeah VMAzzzzzz!" Cyrus wrote on Instagram.
The Homeland star will guest as Ansari's love interest on Master of None, which will build on his stand-up material. PLUS: Why Ansari cast his real-life parents.
Police have arrested three youths who are accused of forcing the security guard into the trunk of her car to withdraw cash from the ATM.
Syfy hopes to replicate the success of Sharknado by ordering 2 Lava 2 Lantula! Premiering last week, Lavalantula starred Steve Guttenberg and some of his Police Academy co-stars.
Judge Douglas R.M. Nazarian of the Maryland Court of Special Appeals used words spoken by Stringer Bell in the footnotes of a recent judicial opinion.
Eads didn't sign on for the CSI finale, but he'll seek assistance from Jeff Lewis on Bravo Wednesday in redesigning his house.
In a Reddit AMA, the Weekend Update anchor also recalled his transition from writer to performer on Saturday Night Live.
On Mythbusters vs. Jaws, Adam and Jamie will revisit a controversial 10-year-old episode in which they busted a myth that shooting a scuba tank with a bullet would actually make it explode. Some fans disagreed with the methodology, so they'll try it again.
The theatrical event will include a 3D version of the Season 8 two-part finale.
On The Larry Sanders Show, on Arrested Development and on Transparent.
The untitled project will revolve around a "fallen Olympic figure skater who returns home to Massachusetts to confront her former bullish coach and narcissistic mother who have cashed in on her success."
Some of the contestants, including winner Shawn Booth, could've easily been classified as being creepy with regards to Kaitlyn. PLUS: The Bachelorette found the lamest way to accommodate casual sex, why Kaitlyn and Shawn will defy the odds, and Ben Higgins may be dating Bachelor alum Tenley.
The cable network hopes to tap into the grindhouse movie tradition with a show about a twisted, gory cross-country death race.
"We are not changing our approach to storytelling," says exec producer Hunt Baldwin. "But I think the end result feels very different, more cinematic, more complete and more complex."
"The mythology of the universe is connected, but they look very different. Tonally, they're very different," says showrunner Melissa Rosenberg. "They're wildly different."
French actor Lionel Lingelser will join the Starz series for Season 2.
The daughter of former cast member Chris Elliott was just 21 when she joined Saturday Night Live in 2008. "At SNL going in and being 21 and not really having had 10 years of Groundlings experience under my belt, I didn't have the confidence that I do now," she says.
Unfortunately, tonight's two-hour documentary is too much of a familiar history lesson on nuclear weapons.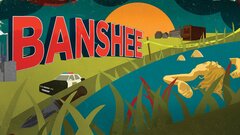 Banshee
where to stream