Joss and Harry Face the Fallout From Their Beachy Tryst When Mistresses Returns
Let's hope that wedding dress had a very generous return policy. When the ABC sudser Mistresses signed off nine months ago, free spirit Joss (Jes Macallan) had just ditched her own nuptials to roll around on the beach with Harry (Brett Tucker), her sister Savi's ex-husband. Headed right for them? The unsuspecting Savi (Alyssa Milano, who announced last October that she would be leaving the cast rather than relocate from Los Angeles to the show's new set in Vancouver). Macallan and Tucker shake off the sand to reveal what lies ahead for the star-crossed lovers in Season 3.
When the action picks back up in the premiere, how much time has passed?
Macallan: There's no time cut. We start right where we left off…and hilarity ensues!
Does that mean that Savi is still walking toward them?
Tucker: It was a long trip down to that beach! You don't necessarily see her discover them—but you will figure out what happens.
Macallan: Savi does not appear at all in Season 3, but her presence is heavily felt, and there will be repercussions for what Joss and Harry did. The guilt and shame is intense.
With a karmic kickoff that bad, will their love stand a chance?
Tucker: Harry certainly wants to commit to it and get through the chaos, but of course it's not that simple.
Macallan: Their connection is very real, and I wish they could just grab hands and skip away together, but that's not the nature of a soapy show like this! Life kind of starts to pile on, and fear and egos and miscommunication get in the way.
Do you think that fans are rooting for this relationship?
Tucker: Since the season finale, I went into hiding so that I wouldn't get in trouble at the grocery store.
Macallan: Most people tell me that they like the show, and then they go into a dramatic whisper to say, "I really wanted you and Harry to be together"—because they feel so bad about thinking that!
Mistresses, Season premiere Thursday, June 18, 9/8c, ABC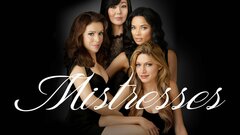 Powered by