Skin Wars' Rebecca Romijn Is a Body-Painter's Muse
Matches in TV heaven don't come much more ordained than that of Skin Wars and its host, Rebecca Romijn. Who better to anchor a body-painting reality competition than the model-actress who not only was the first to appear painted in the Sports Illustrated Swimsuit Issue, but also spent three X-Men movies colored blue from head to toe as baddie Mystique? Ahead of Skin Wars' second season, Romijn reveals what's in store for the artistic contestants vying for the $100,000 prize—and what it's like to endure hours of makeup to become living art.
Do you have any new or exciting challenges planned for Skin Wars' sophomore outing?
My favorite challenges are anything that tricks the eye. We have an illusion challenge where the contestants get five models and have to put them together to paint a single cohesive image. And one thing we didn't get to do last season was a "nature-blend" challenge. We shoot in late winter, and it's still cold even in California, so we felt like that was too cruel to do to the models. Obviously I'm always concerned with the well-being of the models, having been on that end a few times! But [this year] we managed to get a warm day.
What exactly can one do while being painted?
A lot of people assume that you sleep through it, but you really can't. You have to be actively involved. You know, "Stand up, sit down, bend over, spread 'em!" You have to maintain a sense of humor, that's for sure. You have to laugh through it so you don't cry.
After getting painted, do you still feel naked?
No. The strangest thing about it is how covered up you feel once you're painted. When you watch our show, you can see that in our models' body language. It's pretty amazing.
Would you ever walk around only wearing body paint in your day-to-day life?
[Laughs] I don't think so. I'm a little more low-maintenance than that.
Skin Wars Season premiere Wednesday, June 10, 9/8c, GSN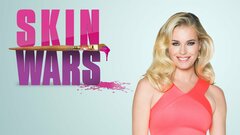 Powered by