Dwayne Johnson Wrestles With His Most Personal Role Yet on HBO's Ballers
No one lives up to a nickname quite like Dwayne Johnson. It's a quiet May afternoon in a tranquil suburb outside Boston and all 6 feet, 5 inches and 260 pounds of the man most commonly known as "The Rock" have just returned to his house fresh from a midday training session. Still catching his breath from the taxing workout, Johnson strides in wearing a sweat-soaked gray hoodie and extends his arm for a firm handshake while flashing his famous pearly-white smile before quickly excusing himself to change. "I put my Elvis shirt on for you," his voice booms throughout the cavernous hallways as he reemerges, proudly puffing out his chest to display a bright yellow shirt with an image of the legendary king of rock 'n' roll.
These days, it's easy to crown the 43-year-old Johnson the king of the pop-culture landscape. After spending eight years as arguably the most recognizable face on the World Wrestling Entertainment roster, he made the move to acting with 2001's The Mummy Returns. Since then, he has been unstoppable at the box office, headlining 2002's The Scorpion King, appearing in the last three installments of the Fast and the Furious franchise, and starring in this summer's disaster flick San Andreas.
On June 21, Johnson cooks up his first series-regular television gig on the new HBO comedy Ballers. He plays Spencer Strasmore, a retired NFL all-star linebacker beginning a new chapter as a financial adviser. "I've had an opportunity to play some cool characters, but this role truly became a wish-fulfillment scenario for me, because I always dreamed of having that life," Johnson says as he cracks open two juice bottles and settles onto the white couch in his living room.
Johnson started his own football career as a high school freshman in Hawaii. Just before junior year, his family moved to Pennsylvania, and he spent the next two seasons becoming a dominant force in the game. Upon graduation, he was recruited by many of the top college programs in the country and ultimately settled on the University of Miami, where he helped his team to a national championship in 1991. But during Johnson's senior year, a back injury and four knee surgeries sidelined him from the action.
After being passed over in the NFL draft, he played in the Canadian Football League for two months before he was cut and moved back into his parents' apartment. "We were broke during all of my teens, but if I became a professional football player, I could buy my parents a house," Johnson says. "Football was everything, so when it was done, it was sobering and devastating."
In 1996, he decided to follow in the steps of his father and grandfather and became a pro wrestler under the name Rocky Maivia. Thanks to his signature arched eyebrow and spirited catchphrases (e.g.,"Can you smell what The Rock is cooking?"), Johnson quickly became a fan favorite, landing a total of 17 championships during his tenure. It didn't take long for Hollywood to come calling.
Johnson likens his Ballers character's transition from sports to business to his own from wrestling to acting. "When you get into a world like Hollywood, the odds are that you won't make it," Johnson says. "When I got into acting at 29, I started applying myself with no formal training. I had to rely on my gut as a performer. I trusted my instincts, and I never forgot that."
Spencer uses the same moxie to navigate the decadent Miami playground of nightclubs and luxury yachts as he builds up a sports division for his new firm, Anderson Financial. He uses his nice-guy reputation within the football community to build trust with current players, including Ricky (John David Washington, son of Denzel), a veteran wide receiver whose off-field antics got him cut from the Green Bay Packers but who now has a second chance to prove himself on the Dolphins. When it comes to managing the egos and finances of these athletes, Spencer considers himself their, well, rock. "That's a good pun!" Johnson says with a laugh. "The interesting thing that happens to a lot of us is we, at times, are better at helping others than helping ourselves, and you'll see Spencer have flashes of success and brilliance while wrestling with demons. Another pun!"
Ballers comes from executive producers Mark Wahlberg and Steve Levinson, two of the creative minds behind the long-running HBO comedy Entourage, whose DNA is apparent throughout Ballers—think high rollers, scantily clad women, extravagant parties, and overall dudeness. "But Ballers' tone is still its own thing," insists Levinson, who credits pilot director Peter Berg (Friday Night Lights) for infusing a fresh energy into the storytelling. "Plus, Dwayne has tremendous range and can tap into the drama of Spencer's life and then effortlessly shift into playing the comedy that is [that world]."
Johnson's comedic abilities come as no surprise to TV viewers. Earlier this year, he went head-to-head with Tonight Show host Jimmy Fallon on the premiere of Spike's wildly popular Lip Sync Battle, bringing the house down with a performance of Taylor Swift's "Shake It Off" and the Bee Gees' "Stayin' Alive." And in March, he returned to NBC's Saturday Night Live for his fourth stint as host, reprising his Hulk-inspired presidential spoof "The Rock Obama." "I love performing live," Johnson says. "I'll sing, I'll dance, whatever. I just want to knock it out of the park."
He often does—even off screen. "Regardless of what your taste is, everybody likes The Rock," says Rob Corddry (Childrens Hospital), who plays Spencer's wisecracking boss, Joe. "When you meet him, he lives up to that sterling reputation in that his heart is as big as his chest, and I think it comes back to him in terms of success. He gives love and gets it back."
But Ballers is not all fun and games. The series hits on a number of issues plaguing the league today, including players' legal troubles off the field and, in Spencer's storyline specifically, concussions and the lasting damage experienced by a growing number of former NFLers. Johnson says addressing these issues was paramount for the preservation of the show's authenticity. "We are aware there are two sides to every story," he says. "So we wanted to be fair to the league, but, more importantly, we want to be fair to the players." Johnson, who also serves as an executive producer, had conversations with the NFL about its portrayal. "They were hesitant at first, as they should be," Johnson says. "But once they started seeing the parties involved in the project, it eased some tension. They saw that there would be a level of respect shown."
And many current NFL superstars came ready to play. Just as Entourage attracted Hollywood A-listers for guest cameos, the first season of Ballers has lined up a roster of pro athletes, including Steelers Pro Bowler Antonio Brown, Redskins wide receiver DeSean Jackson, and Giants wide receiver Victor Cruz. "I spent a lot of time with Cruz," says Corddry, whose personal obsession with fantasy football was written into his character. "He was my No. 1 wide receiver on two of my fantasy teams until he got hurt, but I didn't want to be one of those fantasy guys who was like, 'Come on, man, you didn't score me enough points!'"
Helping to keep things real behind the scenes is Rashard Mendenhall, the promising former Steelers and Cardinals running back who shocked the sports world in 2014 when he announced his retirement at the age of 26 to pursue his true passion: screenwriting. "He knows about being in the locker room and winning in a way that, frankly, none of us do," Johnson says. "He also brings the unique perspective of a guy who was on top and then quietly retired. That psychology of walking away from millions of dollars—this guy could be really f—ed up. But no, he's satisfied, happy, and proud that he did it."
When it comes to his own career decisions, Johnson, too, is extremely proud. In addition to sports, film, and TV, he's formed production company 7 Bucks Entertainment (named for the amount of money he had in his pockets after being cut by the CFL), which has developed a number of projects, including the TNT reality series The Hero and Wake Up Call. "There's still somehow a stigma in Hollywood that if you're a movie star, you shouldn't do television," Johnson says. "But that rule is silly. Quality is the mandate. You've got to swing for the fences to be great, but if we strike out, at least we'll go to sleep knowing we gave it our all."
So does this guy ever rest? Johnson reveals that he gets enough for a guy who is constantly jet-setting around the globe, acting, producing, and maintaining one of the most prolific celebrity social-media presences today. (On May 21, he broke the world record for most selfies taken in three minutes after posing for 105 photos with fans at the London premiere of San Andreas. The next day, he surprised a superfan by officiating at his wedding.) "I do what I can to maintain the legend that I am a machine," says Johnson, once again flashing that signature smile. "They say, 'He doesn't sleep! He sends out crazy f–ing messages at 3am! He's talking to his cardio machines!' My schedule is pretty hectic, but I get by with about five or six hours' sleep."
Keeping him extra busy this summer: shooting Central Intelligence, a new action-comedy movie with Kevin Hart. But Ballers remains Johnson's most personal project to date, in more ways than one. "You get to see some parts of me that you've never seen before," Johnson teases. Since the series is broadcast on a premium cable network, Johnson fans can expect a number of very racy sex scenes, one of which was interrupted by a faulty fire alarm during filming. "Look, I hit it so good that I set off alarms," Johnson says with a laugh. "Talk about something that just feeds the ego. They call me The Rock for a reason!"
Ballers, Series premiere, Sunday, June 21, 10/9c, HBO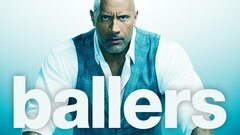 Ballers
where to stream
Powered by