A Guide to the Park Avenue Players of Odd Mom Out
Odd Mom Out, Bravo's first scripted series, stars Jill Kargman as "a sharp-witted Jane Goodall of the Bergdorf set" who navigates the dangerously icy waters of parenting on Manhattan's Upper East Side. Here, meet the elite cast of characters whose paths she'll cross:
Brooke Weber (Abby Elliot, top left) The queen bee of the UES, Jill's sister-in-law is a flawlessly groomed lady who lunches (although never on carbs—at seven months pregnant, she has zero baby bump but refers to herself as "Chris Christie").
Andy Weber (Andy Buckley, top right) Despite having been raised by various nannies and housekeepers, Jill's husband—
who was just named a partner at his law firm—manages to take his hoity-toity family with a grain of epicurean sea salt.
Candace Weber (Joanna Cassidy, bottom right) A widow since losing her husband to a "rich-person accident" involving sharks, the Weber matriarch is all about appearances and keeping up with the Rockefellers—making Jill a serious liability as a daughter-in-law.
Vanesa Wrigley (KK Glick, bottom left) A single (and mingling) ER doctor who lives downtown, Jill's no-nonsense best friend is her grounding influence and voice of reason.
Odd Mom Out, Series premiere Monday, June 8, 10/9c, Bravo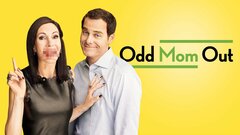 Powered by