Odd Mom Out: Bravo Takes on Upper East Side 's Competitive Parenting
If competitive parenting is a sport, then Manhattan's Upper East Side—where kids learn to speak Mandarin before they're even out of their designer diapers—hosts its Olympic Games. And perhaps no one understands that rarefied playing field better than Jill Kargman, the 40-year-old creator and star of the new Bravo series Odd Mom Out. The native New Yorker and married mother of three has already made a career out of sending up her city's elite with bestselling novels like Momzillas, which land somewhere on the spectrum between satire and documentary. (Picture a sharp-witted Jane Goodall of the Bergdorf set.) Now, Kargman is bringing that gimlet-eyed view to Bravo's first scripted comedy as Jill Weber, a fictionalized version of herself—a slightly kooky, reluctant society gal who's struggling to juggle twins, the preschool application process, her husband's family of blue bloods, and her own sanity. We met up for lunch in her 'hood to get all the dish.
We're at the Carlyle Hotel, home of the $30 Cobb salad—is this one of your hangouts?
This is not my spot. What's funny is that I go to the diner across the street with my kids, but it's the same price.
You went from being an author to getting your own Bravo show. How'd that happen?
I met with [former Bravo development executive and Watch What Happens Live host] Andy Cohen and he said, "We're interested in your voice, and we want to work with you." I didn't feel comfortable doing a reality show—no judgment on anyone who does, but I could never have a camera up my ass all the time—so we figured this out instead.
Was there ever any question that you would play the lead?
Never. I was an actor in college, and when I graduated, I didn't pursue it because I wanted a normal life. I didn't want to always be auditioning and not getting work. So I didn't act again for 20 years, but returning to it now feels right. I'd love to do more projects. I want to play a dead body on Law & Order!
What is it about the bizarro, cutthroat sphere of NYC parents that fascinates you?
When I became a new mom, I felt super left out. There were all these cliques of women going to Starbucks with their babies, and I was like, "Wait up, guys!" One day at a ballet class with my daughter, we were all supposed to gather in a circle, so I said, "Sadie, come sit down Indian-style!" Two moms started whispering and looking at me. I asked what was wrong and they replied, "No one says 'Indian style' anymore. It's 'crisscross applesauce.'" I almost started crying on the spot. When I got home that night, I knew I had to write about this world.
As the show's name implies, your character has trouble fitting in, but like you, she was born and raised on the Upper East Side and leads a privileged life. What's so outsidery about her?
First of all, it's how you feel—and I've always felt like Wednesday Addams in Barbietown. Yes, I grew up here and went to private schools, but within all that there's still a range. We lived in a rental apartment while my friends had crazy triplexes on the park. There's also something outsidery about being Jewish, even today. I'll see women at school pickup who are like, "Hi, Jill, loved your new book!"—but I know they're rabid anti-Semites because I've heard what they say at dinner parties.
Jill Weber has tattoos, goes to spinning class, sings a cappella…where does she end and the real you begin?
She's definitely a version of me. I have tattoos, I love Soul Cycle, I was in an a cappella group at Yale. Neither of us wears pants, ever, because I can't stand the feeling of putting my leg through a hole—it gives me a panic attack. But Jill the character is more like me from 10 years ago, neurotic and caring what people think and trying to deal with the judgment of other mothers and the loneliness of motherhood. I'm not like that anymore, but it's not a distant memory.
Now that you're on TV, are you ready to give up your anonymity?
Even if people know who I am, it's not the kind of fame that comes with paparazzi. My brother [Will Kopelman] is married to Drew Barrymore, and she's like The Truman Show—people feel like they watched her grow up. I would never have that. Plus, I live in New York, not Hollywood, and I'm never moving. I don't even know how to drive.
Has motherhood made you more or less of a rule breaker?
When my husband and I started looking at schools for our kids, I had an identity crisis, because the things I'd always rebelled against were what I wanted for them. I realized that I could either be an uptight mom in the loosey-goosey school or the cool mom in an uptight school, and I chose the latter. I don't want my kids to put their feet up on the coffee table and call their friends' parents by their first names. I'm constantly oscillating between "f— the man" and "the man made me me."
Odd Mom Out, Series premiere, Monday, June 8, 10/9c, Bravo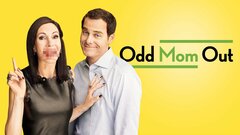 Powered by