Comic-Con: Robert Kirkman Talks 'Walking Dead,' 'Invincible' and More
Robert Kirkman, the guy behind The Walking Dead and the upcoming Invincible movie that Seth Rogan and Evan Goldberg will adapt from Kirkman's comic book series, took to the podium Thursday at Comic-Con for a solo, laugh-filled Q&A session with fans.
Starting the hour with a few housekeeping announcements — Dead's Oct 22 Season 8 premiere, the Sept. 10 return of Fear the Walking Dead's third season and the impending arrival of a new issue of The Walking Dead comic — Kirkman then spent the next 45 minutes fielding questions.
The Q&A started with a kid in a replica of the hat Chandler Riggs' Carl Grimes wears in the Dead series. He wanted to know if Kirkman regretted killing fan favorite Glenn Ree, played by Steven Yeun. "In the event that Steven Yeun sees this," Kirkman deadpanned, "I'd just like to say: Not even a little bit."
A question about whether Kirkman has final say over what appears onscreen yielded the revelation that most people nitpick about weaponry in the series instead of whether undead folks would really decay exactly as shown.
Will Carol and Daryl ever hook up? "We are fully aware that people would like that to happen," said Kirkman. A few boos rose up in the crowd. "OK," he amended, "the answer is no … and the answer is maybe."
Kirkman also apologized to members of the LGBTQIA community who might have taken offense to his previous description of Norman Reedus' sex-free sex symbol as "asexual," explaining that he simply meant that Daryl is not a sexual person. No matter how badly we want him to be, Daryl fans.
Asked how he determines what elements of The Walking Dead comic are changed in the series, Kirkman said his writers room is largely in charge of that, but he will make suggestions. "A lot comes from hindsight," Kirkman said, returning to Glenn's death as an example. He suggested killing off Abraham, too, to throw the comic faithful off a bit. And on the subject of whether Dead could live on without Andrew Lincoln's stalwart Rick Grimes, Kirkman reminded the audience that he's said from the beginning that Rick will not make it to the end, "I said it so long ago that you guys probably forgot," he joked.
Does he know what that end might look like? Yes. But he's felt that way before. Kirkman said when he first began writing The Walking Dead, he knew the prison storyline would happen and worked toward that. He had an ending in mind. But when he got to the point in the story where it should happen, "I thought, 'I'm not done.'"
See Also
AMC also released Comic-Con art for the second half of 'Fear the Walking Dead' Season 3.
The finale he's working toward now came to him a few years ago. So far, he's still good with it. "It's more difficult to write The Walking Dead than ever because we've done so much," Kirkman said. "It gets harder and harder to top yourself." Hence the reason he enjoys it when his writers tweak the tale for the series. "If it were up to me, there'd be more changes," he shrugged.
On the subject of Andrea's Season 3 death, Kirkman admitted he waffled on the demise of Laurie Holden's character for weeks. "I think the reason The Walking Dead works is because I'm very emotional about [the characters]," he explained. "When you guys feel a gut punch, I feel a gut punch, too. Which is weird because I'm the one punching myself."
The next guy wanted to know, on behalf of his niece, if Kirkman would make an appearance at the girl's high-school graduation. "When is that?" Kirkman asked. 2020. "We're not going to be here by then," he joked.
Asked about his three-year-old Outcast comic book series, Kirkman said he's excited that the relatively quiet storyline is picking up steam, including the introduction of a "huge new character" in the upcoming issue 30.
The conversation returned to the Dead. If he could bring back one character, who would it be? Kirkman said he wouldn't do that, because he doesn't like to play favorites. Then he played favorites: "Tyrese."
Does he have a favorite villain? Negan all the way. Then he called out the series' late Governor, David Morrissey: "He recently said in an article that he thinks the Governor could beat Negan," Kirkman said. "But he's wrong." And if Kirkman had to be locked in room with one or the other of his creations? Negan again. "Negan would be a fun conversation before he killed you," Kirkman said, adding that he chose Neegs because he is the more rational of the two. "And maybe he'd let me hold Lucille."
Negan's also getting a 64-page standalone comic in October that will flesh out the bat-wielding, one-liner spouting baddie's backstory.
Will Kirkman ever say what caused the zombie apocalypse? No. Because "it's dumb."
Kirkman revealed that he has all of his plots figured out to bring the Invincible comic book series to a close with Issue 144, and is working toward that end. The eagerly-awaited movie, he says, is in good hands with Rogen and Goldberg. His reaction to what they present him: "Yeah! That's exactly what I want. I just didn't know I wanted it."
What he does want — for the duo to work with one plot line from the comic and make a great movie of it. "You don't bite off more than you can chew," he said. But, he adds, you can take plenty of bites. "'Nine movies, guys, right?' Then the next time I see them, 'Ten movies, guys, right?'"
The Walking Dead Season 8 premieres Oct. 22 on AMC.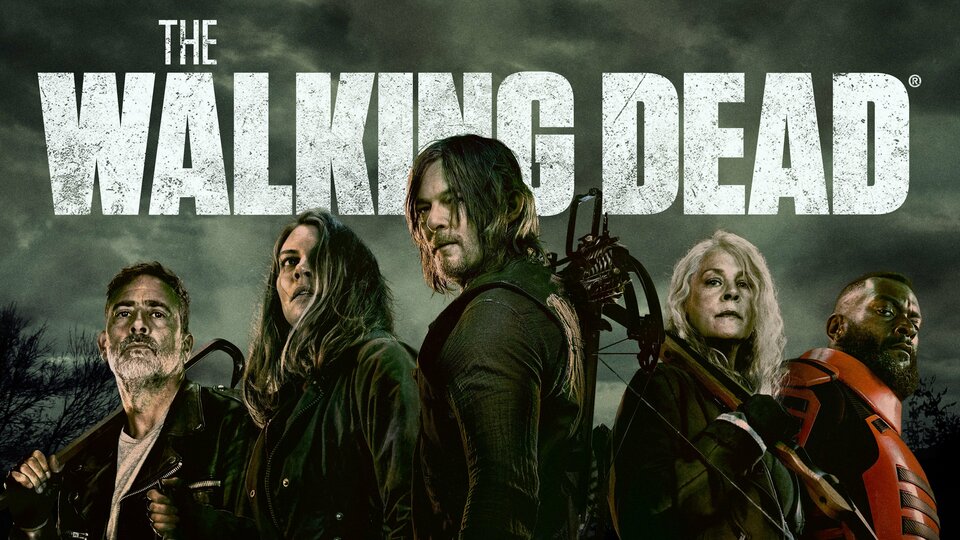 Powered by