Pretty Little Liars: Shay Mitchell Says 'Nothing Is Ever What It Seems' in Season 6
It's more like Pretty Little Prisoners when ABC Family megahit Pretty Little Liars fires up Season 6 with Aria (Lucy Hale), Spencer (Troian Bellisario), Mona (Janel Parrish), Hanna (Ashley Benson), and Emily (Shay Mitchell) still trapped outside that life-size dollhouse created by creepy "Charles." Before the situation gets any more dire, we locked down Mitchell to see what's up.
How has it been for all of you to film those scary dollhouse scenes together? And can you give us any scoop on the first episode back?
Three words: rain, running, and redemption. But anytime we get to shoot anything that involves all of us, it's always crazy and fun.
With so many twists over the years, how do you manage to keep all the plots and the "A" maneuvers straight?
I'm so glad we always have the writers on hand, because things definitely can get confusing. But they always know what's going on!
Looks like "Charles" might have a deadlier plan than anyone imagined. Have you gotten used to saying goodbye to costars, since so many characters get killed off?
But is anyone ever really dead in Rosewood?
Then we have to ask, what do you think about the fan theory that Maya (Bianca Lawson) is still alive?
Like I said, nothing is ever what it seems in Rosewood. [Laughs]
What's the one word you would use to describe your fellow Liars?
Ashley is "buttah-benzo," Janel is sweet, Troian is smart, and Lucy is "smallbutmighty." That's technically one word, yes? [Laughs]
PLL's costume designer, Mandi Line, has pulled together some amazing looks. Have you "borrowed" anything from the set?
There are definitely a few flannels that have made their way from Emily's closet into mine.
Executive producer Marlene King has revealed that the second half of the season will jump from high school graduation to after college.
Yes! I can't wait to find out how they are handling their lives. I think we are all ready for the girls to grow up a little bit.
Pretty Little Liars, Season premiere Tuesday, June 2, 8/7c, ABC Family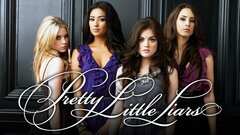 Powered by