Who Has a Major Meltdown on 'Project Runway' This Season? (Zac Posen's Answer Will Surprise You)
When fashion designer Zac Posen took over for Michael Kors on the Project Runway judging panel in 2013, he instantly meshed with fellow judges Heidi Klum and Nina Garcia. In the ensuing seasons of the design competition, he's come into his own, providing contestants with sharp, meaningful observations, all delivered with his signature wit. Ahead of the show's 14th season, Posen talks about giving quotable feedback and reveals the blowup that you won't see coming.
This is your fourth outing. How do you keep your critiques fresh?
I like to be spontaneous, keep things funny and light. If they show me a creative idea, I get really excited. For me, to execute something in one day is almost impossible. So I'm just looking for that spark of genius.
Is there constant pressure to deliver one-liners?
Your first reaction is usually your best one-liner. And sometimes you've got to either tone it down or bring it up a notch. But the hardest thing is when Nina and I come up with the same reference. If she gets chosen by Heidi [to critique] first, then your one-liner or reference is stolen. You [have to] choose whether to say it anyway and see what gets edited!
What happens when the judges disagree on who should be eliminated?
We draw sticks or we'll roll the dice or we'll really suss it out. We have to take a lot into consideration, and at that point, because we don't see what happens behind the scenes, we have to ask Tim [Gunn] what's really up. He's actually in the trenches back there, seeing what's going on. And this season, [for the first time] in the whole time I've watched and been on the show, Tim lost his cool in a major way, and rightfully so.
Whoa.
Whoa is right. Some four-letter words [were] used, which was quite shocking to us. It was a reality check. I mean, Tim had the most epic "make it work" moment we've ever seen.
Project Runway, Season premiere, Thursday, August 6, 9/8c, Lifetime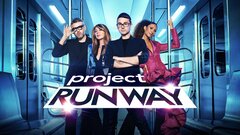 Powered by