Shark Week 2017: 'Shark After Dark' Hooks Charlize Theron and More Guests
Just when you thought it was safe to go back into the (channel) surf, the annual awesomeness of Discovery Channel's Shark Week is right around the corner to fire up our beachiest fears. And for the fifth year running, the Shark After Dark after-show will be capping each night with celeb guests and all sorts of toothy fun.
Recent Baywatch reboot producer (and horror guy) Eli Roth handles the Shark After Dark hosting duties once again, and this year, his guest list is a mix of funny folks, animal kingdom brainiacs and one spectacularly sexy Oscar winner. Check out the guests below, and set your DVRs accordingly.
And whatever you do, don't go out too deep.
Sunday, July 23
Tony Hale (Arrested Development and Transformers: The Last Night) and award-winning shark cinematographer Joe Romeiro discuss Olympian Michael Phelps' race against a great white.
Monday, July 24
Comic Anthony Jeselnik talks goblin sharks and other funky finned species with marine biologist Vicky Vasquez.
Tuesday, July 25
Host of everything, Chris Hardwick; Girls Trip's Regina Hall; and marine biologist Craig O'Connell debate the battle between east and west coast sharks. It's like Biggie vs. Tupac, with gills and dead doll eyes. Also: viral shark videos sure to keep you on dry land.
Wednesday, July 26
Musician Moby plays a round of Fin's Up! with Naked and Afraid fan faves Cory Williams and Anastasia Ashley. In addition, wildlife filmmaker Devon Massyn opens up about the perils and thrills of filming sharks.
Thursday, July 27
Oscar-winning actress and producer Charlize Theron shares tales of diving in South Africa—"the sharkiest place on Earth"—with award-winning cinematographer Andy Casagrande.
Shark Week kicks off Sunday, July 23, 7/6c, on Discovery. Shark After Dark airs July 23-27 at 11/10c.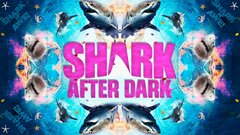 Powered by
Powered by