5 Things to Know About the 'Fierce' New Season of 'America's Next Top Model'
Dust off your booty tooch and start practicing your smize in the mirror, because America's Next Top Model is back. It's cycle 22, and executive producer Ken Mok swears it's a doozy. "It sounds hyperbolic, but I do think this is the best cycle we've ever had," he says. Why? Here are five things to know about the new season.
1. The male contestants have renewed faith in their potential for success.
Watch out, ladies. After America's Next Top Model crowned its first male winner last year, Mok says the guys competing this season are fiercer than ever. "[Reigning champ] Keith Carlos has given them an incentive because he's doing very well now in the industry," notes Mok. "So the men feel they could take this competition just as much as the girls."
2. Last season's tragic makeover will not be repeated.
"We are not going to see another beard weave," says Mok, laughing, as he refers to the atrocity that was affixed to Denzel's face.
3. The cast is as diverse as ever.
"We've got white, black, Asian, gay, straight—every permutation there," says Mok. "We've got girls who are pageant girls, we've got girls who are former diplomat daughters who went from the high life to poverty and [are] trying to fight their way back." And for the first time, the show will feature a deaf contestant.
4. The show is moving from Fridays back to Wednesdays.
But Mok doesn't care. "My feeling is: if you build it, they will come. They could put us on Wednesday, Thursday, Sunday—it doesn't matter to us. We know we're going to deliver a great show to the audience," he says.
5. The revolving door of judges comes to a halt.
The panel of Tyra Banks, PR maven Kelly Cutrone and runway coach J. Alexander, plus photographer Yu Tsai as creative director, will remain intact. "I've never felt more comfortable with a group than these four," Mok says. "I call them the Beatles. We're going to keep them together as long as we can." Stay away, Yoko!
America's Next Top Model, Season premiere, Wednesday, August 5, 8/7c, The CW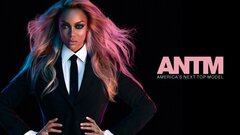 Powered by