Mad Men's Series Finale was its Third Most-Watched Episode Ever Mad Men's series finale was its 3rd most-watched episode ever
About 3.3 million tuned in for a finale high. The final episode was eclipsed by the Season 5 and Season 6 premieres.
U.S. Senator Claire McCaskill: I'm done with Game of Thrones
The Democrat from Missouri tweeted her disgust with this week's episode: "Water Garden, stupid.Gratuitous rape scene disgusting and unacceptable.It was a rocky ride that just ended." PLUS: "Ramsay Bolton" actor Iwan Rheon reacts to this week's episode, website The Mary Sue bans GoT promotions in response to this week's episode, and GoT is gross, exploitative and totally out of ideas.
SNL's Darrell Hammond to play Colonel Sanders in KFC ads
KFC's chief marketing officer says of hiring Hammond: "Because (Col. Sanders) is no longer with us, we needed to find the greatest impersonator of our generation. Darrell has mastered the cadence, tone and mannerisms of other celebrated figures … so, who better to play one of America's dearest icons than (him)."
ABC's The Catch drops Bethany Joy Lenz
The One Tree Hill alum's role on the Shonda Rhimes series is being recast for "a different type." PLUS: More new shows are recasting.
The Strain gets a Season 2 premiere date
The FX horror drama returns Sunday, July 12.
One of The Bachelorette contestants is an ex-boyfriend of a Bachelor winner
It turns out Ryan McDill is the ex-boyfriend of Nikki Ferrell, who won Juan Pablo's heart in 2014. PLUS: This is the most sexist and degrading Bachelorette season, and one suitor told a rape joke.
ABC News hires former Bachelor Jesse Palmer as a special contributor for GMA
The ESPN college football analyst will expand his Good Morning America duties.
Watch Louis CK's rooftop SNL BBQ
It's another sketch cut from the main broadcast. PLUS: Here are the 25 best sketches from Season 40.
Meet Letterman's longtime staffers
They include Late Show exec producer Barbara Gaines, who 35 years ago worked as a receptionist on The David Letterman Show. PLUS: Letterman staffers deliver the Top 10 list, and Eddie Vedder performs a haunting version of Better Man.
Jeopardy! contestant loses by $1
Is this the most heartbreaking Jeopardy! loss?
Check out Fred Armisen and Bill Hader play elderly women on IFC's Documentary Now!
The SNL alums' new show spoofs the documentary genre.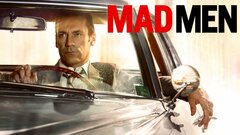 Mad Men
where to stream
Powered by