What's Worth Watching: All You Can Eat Chopped!
Chopped (Saturday, May 23, 6/5c, Food Network)
Ahhh, the long holiday weekend. Time to get out into the sun, throw some goodies on the grill, head to the beach, hang with friends, maybe work in the garden. It all sounds so…exhausting. Wouldn't you rather give your brain a bit of a vacation, as well? Clearly the Food Network thinks so. They've helpfully put together a menu made for binging while you debate which of Monday's get-togethers are worth bailing on: A super-sized 10-hour marathon of the insanely addictive Ted Allen-hosted cooking competition that pits big-time chefs against each other—and baskets of mystery ingredients.
Kicking off with the penultimate episode from this season's All-Stars tournament featuring Rocco DiSpirito, Fabio Viviano and Lee Anne Wong, the rest of your evening is sure to be devoured by the ensuing All-Star encores, which include a Food Network Star-themed episode and a priceless hour that finds four of the show's judges becoming the ones being judged. The twist is delicious, but for the love of man, please don't recreate any of their goat- brains appetizers for your barbecues this weekend. That's just a baaaaaaaaaaahh-d idea.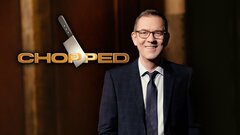 Chopped
where to stream
Powered by