'Sharknado 3' Cameos Begin Surfacing
Like so much chum in the water, celebrity cameos are the blood and guts of the Sharknado films. And hell yeah, they are plentiful in Sharknado 3: Oh Hell No! We already know about a few of the famous faces popping up—Mark Cuban as the President of the United States, Ann Coulter as the Veep, wrestler Chris Jericho as an amusement park operator—but there are so many others, to list 'em all would take as long as it does to explain the actual plot of the threequel. So instead, we offer you these exclusive peeks at a pair of cameos that made the final cut: Comic Bill Engvall as Chief of Staff Gary Martin Hays, and Lorenzo Lamas as Sergeant Rock. Yes, like the comic-book character.
How the guys fit into the story (and whether they survive the storm) is classified, but we can say that each of them play an important part in helping Ian Ziering's Fin Shepard combat the double whammy of sharks and 'nados battering the East Coast. For more info, you'll just have to tune in to Syfy on Wednesday, July 22 at 9/8c.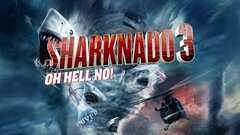 Powered by