In Netflix's Between, Jennette McCurdy Is Growing Up in a Town Without Grown Ups
Most kids fantasize about a world without rules—or one without grown-ups to enforce those rules. In Netflix's new thriller Between, the 21-and-under population of fictional Pretty Lake get their wish, but the result is not all it's cracked up to be.
The six-episode series begins with every adult in town mysteriously dropping dead from an unknown pathogen, the only warning sign a brief oral expulsion of bile before their demise. The government quickly takes control of the young survivors by placing them under quarantine, complete with guards and an electric fence. This is a major problem for orphaned and pregnant high schooler Wiley (Jennette McCurdy).
McCurdy, 22, deeply related to her character's loss—the actress's mother died of cancer in 2013. "This sounds strange," she says, "but I've always been the wink-and-a-finger-gun type of girl, and I put a lot of my heavier emotions on the back burner. Doing this show allowed me to release them."
Wiley releases a few of her own emotions in the premiere when she has to endure labor at home—alone. "I watched all of the Claire birthing scenes from Lost [to prep]," McCurdy says, and the women on set who had gone through the process contributed suggestions for Wiley's contraction-induced screams. "I also kept asking [the makeup department] to cover me with more sweat, because pregnant women apparently are very sweaty!"
Though it's a far cry from her former role as plucky teen Sam Puckett on Nickelodeon's iCarly and its spinoff, Sam & Cat, McCurdy says tackling the heavy topics in Between at this stage in her life feels right. "I wasn't so much fixated on removing myself from my previous image as I was looking to acknowledge the growth I had done as a person," she says. Wiley, however, has a bit more growing up to do. "She's clamoring for an identity," McCurdy says. "But then everyone in the town starts dying, so that's her biggest problem right now."
Between, Premieres Thursday, May 21, 11:30/10:30c, Netflix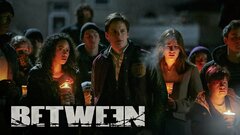 Between
where to stream
Powered by