5 Things We Learned About 'Limitless' at Comic-Con
CBS' Limitless doesn't premiere until September, but we learned a few more details over the weekend at Comic-Con. Based on the 2011 Bradley Cooper thriller, the new series stars Jake McDorman as Brian Finch, who helps the FBI crack cases after a super drug allows him to unlock his brain's full potential. McDorman and co-star Hill Harper (both pictured above), joined writer/executive producer Craig Sweeny (who has a cameo in the series as a hot dog vendor) and executive producers Marc Webb, Heather Kadin and Alex Kurtzman for a screening of the pilot and to tease what's ahead. (Cooper, an executive producer himself who will also have a recurring role, was missing, but he sent a video message from London to fill his place.) Here are five things you'll want to know:
The show plays off of the film's original storyline, but it's not a remake. "As an actor, that's great, because you don't have to follow Bradley Cooper!," McDorman said. "But it also just expands the idea of what the movie was."
McDorman is really playing two roles. "Jake McDorman is playing an everyman—you are going to see him off the drug as much as on the drug," said Kadin. "The show gets to explore that duality, i.e. 'just because I can do these things when I am artificially enhancing my ability, does that mean I am doing those things?!' There's wish fulfillment, but it's a cautionary tale. I just think there's a lot to look at beyond the 'it's a super smart guy who can solve crimes' [angle]."
Kurtzman was a fan of the original film. "I was really surprised at how well-directed and conceived the movie was. It asked really compelling questions and had these great moral complications, like what happens when you're on this drug. It was a unique and interesting experience seeing it—surprisingly wonderful in fact—and when the opportunity to get on board for the show came up, I was intrigued by what we could do."
There was already a set camaraderie with Cooper.
Even though they haven't started shooting, McDorman and the producers say they know Cooper well. The two actors were in American Sniper together. As for the producers, "We worked with Bradley years ago on Alias and we loved working with him then," said Kadin. "He was always approachable and so sweet. It's been awesome. He has been incredibly involved in not only the development of his character, but also the pilot as a whole. He came to the table read; a lot of what you see in the pilot came out of conversations that we had had with him."
The Limitless producers are involved in three other shows. The producers also oversee Hawaii Five-O, Scorpion and Sleepy Hollow. So how do they manage it all?! "We don't sleep," quipped Kadin. But in reality, "we have amazing showrunners and actors and [we] are really lucky."' (Or just really sleep deprived.)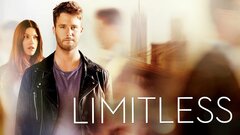 Powered by