'Outlander' Cast Shares Gag Reel, Season 2 Scoop During Comic-Con Panel
The whiskey was flowing in Comic-Con's Ballroom 20 on Saturday afternoon as the creative team behind Starz's Outlander gathered to preview the second season and share new footage with fans.
A new sizzle reel highlighted Claire (Caitriona Balfe) and Jamie's (Sam Heughan) arrival to France to try to change history and prevent the Jacobite rebellion. However, executive producer Ronald D. Moore confirmed the action will return to Scotland in the second half of the season. "We've condensed some things and discarded others, but we've preserved the spirit of the second book, and I think we're going to pull it off," he said.
Outlander creator and book author Diana Gabaldon also confirmed that she is writing an episode for the new season, but there are no plans (as of now) to make another cameo.
The biggest crowd reaction came during a special screening of the Season 1 gag reel, which will be available to purchase on the Blu-ray set available on September 29. The clip highlighted the on- and off-screen chemistry between Balfe and Heughan, as well as how the actors use laughter to get through the more intense scenes. "I think, through humor, we try to leave things behind," Balfe said. "On Monday, we had an intense scene, and it was very emotional, but we could barely get through it without laughing."
Towards the end of the panel, Heughan made good on a bet with Once Upon a Time star Colin O'Donoghue and dressed as the actor's fan-favorite character, Captain Hook. But when it comes to wardrobe on the new season of Outlander, Heughan says just because they are now in France, the kilts are still around. "I was terrified I'd come out with big flouncy shirts with cuffs," he said. "Jamie has assumed a new identity and character, but there's still an amount of Scottishness about him."
Check out the Outlander Season 1 gag reel below: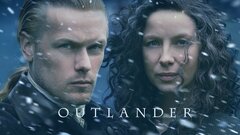 Powered by