Comic-Con Cruise With 'Vikings' Cast Yields Secrets From Season 4
Vikings stars Travis Fimmel (Ragnar), Katheryn Winnick (Lagertha), Clive Standen (Rollo) and Alexander Ludwig (Bjorn), along with series creator Michael Hirst took us on a raid in their long ship (festooned with severed heads) around San Diego harbor at Comic-Con. We came back with some spoils (no, not spoilers) of our own–hints on what happens to the characters when Vikings returns in Season 4.
Ragnar
As Season 4 opens Ragnar is recovering from battle wounds he sustained in the raid on Paris. "A lot of this year is his fascination with death," Fimmel says. Hirst adds, "A lot of the first part of the season asks what happens if Ragnar dies. People are queuing up to rule."
Ragnar's young sons with second wife Auslaug (Alyssa Sutherland) will be aged up and take on a bigger role. Expect some serious father/son tension and rivalry. And, there will be a new woman in Ragnar's life: Yudi, a Chinese slave captured in the Red Sea, played by Dianne Doan.
Lagertha
Her relationship with Kalf (Ben Robson), who stole her lands after she left him charge while she raided Paris, gets more complicated. "There's a physical attraction there, but can she trust him?" Winnick wonders. She's also made some requests for her character's future: "Every year Lagertha has gained power, but her storyline has always been very focused with men," Winnick says. "The first season obviously with Ragnar, the second with her second husband, last season with Kalf. She's always kind of relied on men for power. It will be interesting to see if she can find strength within herself and also politically on her own. That's something I've asked Michael to write in this season."
Rollo
Ragnar's unpredictable warrior brother will go through with his marriage to French princess Gisla (Morgane Polanski.) Standen wore a "Pardon My French" T-shirt to the Vikings panel as a sly nod to his character's total inability to converse with his new wife or maybe a preemptive apology to his Viking kith and kin. After all, Hirst says that Rollo and Ragnar are well set up for another showdown, as Rollo gains a level of power and influence in France that he could never achieve with his own people. Standen carried a "pocket Seer" and asked it what fans could expect next. The answer echoed what the Seer recently told Rollo: "If you could see what happens in Season 4, you'd be dancing naked on the beach."
Bjorn
To prove his worth as a Viking and to recover from the departure of Porunn (Gaia Weiss), his lover and the mother of his child, Bjorn goes on a spiritual quest. "He decides to figure out his life and go out to the woods," Ludwig says. "While he's there, this bear starts stalking him." The two have a showdown. "Ironically, the bear had a bigger resumé than anyone else on the set. It was the Anchorman bear. I was starstruck," Ludwig says.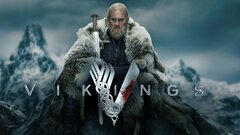 Vikings
where to stream
Powered by