Supergirl Gets Firm Order for Next Season From CBS
CBS is returning to the comic book pages, having just ordered Supergirl to series.
The Supergirl pickup was expected, and represents CBS' first foray into the popular superhero/comic book arena in years. Melissa Benoist plays the title character, also known as Kara Zor-El, while Calista Flockhart, Chyler Leigh and Mechad Brooks and David Harewood also star.
Based on the DC comics, Supergirl centers on Krypton-born Kara, who (like her cousin Superman) escaped its destruction. Now on Earth and 24 years old, she's finally starting to embrace her superhuman abilities.
Greg Berlanti (Arrow, The Flash) is executive producer with Ali Adler and Sarah Schechter, while Berlanti, Adler and Andrew Kreisberg wrote and executive produce. Glen Winter directed the pilot, which comes from Berlanti Prods. And Warner Bros. TV.
Supergirl becomes the first new series announced for the 2015-2016 TV season by CBS. The network will announce its schedule next Wednesday; speculation on where Supergirl might land has included potentially on Sunday.
CBS had previously given a series commitment to the show. "It's a real passion of ours," CBS Entertainment president Nina Tassler said in January at the TV Critics Association press tour. "We heard the pitch to Supergirl, and we realized that she embodied so many of the qualities and the characteristics of classic female heroines on this network, and we think that it is a story and a coming-of-age opportunity for us. We also just fell in love with the pitch. We think she's a great character, and I love the superhero genre."
Here's a roundup of the cast and their character descriptions:
Melissa Benoist – 'Kara Zor-El' – Born on the planet Krypton, Kara Zor-El escaped amid its destruction years ago. Since arriving on Earth, she's been hiding the powers she shares with her famous cousin. But now at age 24, she decides to embrace her superhuman abilities and be the hero she was always meant to be.
Calista Flockhart – 'Cat Grant' – A self-made media mogul and founder of CatCo, Cat Grant started her career as a reporter and has built her company into a global powerhouse. Kara (Melissa Benoist) works at CatCo as her assistant.
Chyler Leigh– 'Alexandra "Alex" Danvers' – Alex is the confident foster sister of Kara (Melissa Benoist). Fascinated by Kara's powers from a young age, Alex developed a lifelong obsession with science which inspired her to become a bioengineer.
Mehcad Brooks – 'James Olsen' – The former Daily Planet photographer is the new art director at CatCo, the media company where Kara (Melissa Benoist) works. He has recently been living and working in National City, though the reason is still a secret.
David Harewood – 'Hank Henshaw' – Onetime CIA agent Hank Henshaw now runs the Department of Extra-Normal Operations (DEO)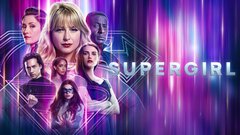 Powered by