Check Out the New 'Gravity Falls' Trailer Debuting at Comic-Con (VIDEO)
Fans at Comic-Con's Gravity Falls panel (going on as we type) are getting a chance to grill creator Alex Hirsch about what to expect when the show makes its midseason return next week, and checking out an all new trailer that teases what's ahead. Lucky for those of you who couldn't make it to San Diego, we've got your first look at the footage:
https://www.youtube.com/watch?v=HbJ2c2H1tek&feature=youtu.be
When we last left the show, Grunkle Stan's plan to open the secret portal succeeded (despite Dipper and Soos' best efforts to stop him), finally reuniting him with his long-lost twin brother. With the original mystery twins back together, it seems like fans might finally get some answers to the show's big questions. But based on the teaser, it seems like Gravity Falls is lining up just as many new ones when it returns with the episode "A Tale of Two Stans" on July 13 at 8:30PM ET on Disney XD.
Plus: Follow our full coverage on TV Insider's Comic-Con page.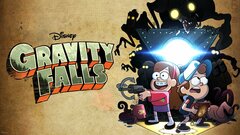 Powered by