'Kevin From Work' Exclusive: New Extended Trailer and Key Art Revealed
Kevin From Work, a new workplace comedy from ABC Family, premieres next month and stars Noah Reid (Backpackers) as the show's goofy, endearing title character. When Kevin reveals his longtime crush for his cubicle-mate, Audrey (Paige Spara), via snail mail as he's about to make a big move to Italy, he assumes he can finally move onto greener pastures. Except, he doesn't move. And now he's stuck five feet away from Audrey eight hours a day. Talk about awkward!
The show also stars Matt Murray (Rookie Blue), Jordan Hinson (Eureka) and newcomer Punam Patel, with Amy Sedaris as a recurring guest star.
We've got an exclusive on the show's trailer and key art, which bears a serious Say Anything vibe to it. Will From Work's Kevin be as lucky as Lloyd Dobler? Check out the trailer below!
[jwplatform lVI0bPF6]
Kevin From Work premieres with back-to-back episodes on Wednesday, August 12, 8/7c, ABC Family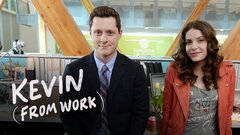 Powered by