What's On: 'Playing House' Takes a Serious Turn, Bocelli in Concert, Colorized U.S. History
Playing House (Friday, 11/10c, USA): "Cancer has picked the wrong duo to mess with," declares Maggie (Lennon Parham), a nurse for whom things get personal when her BFF Emma (Jessica St. Clair) gets an unexpected diagnosis in the second of two back-to-back episodes of the heretofore lightweight female buddy comedy. They'll be laughing through their tears as the season progresses, inspired by St. Clair's own successful battle with breast cancer. But in the first of the night's episodes, it's game on, when Emma's beau Mark (Keegan-Michael Key) coaches a women's basketball team with Emma's overbearing mom (Jane Kaczmarek) at center court.
Andrea Bocelli — Landmarks Live in Concert (Friday, 10/9c, PBS, check local listings at pbs.org): The latest entry in the Great Performances series that showcases artists in settings with great personal meaning takes viewers to Florence, Italy, where the great classical singer performs from the stunning Palazzo Vecchio. Host Chad Smith of the Red Hot Chili Peppers visits Bocelli in his Tuscany villa and tours Florence while fans bliss out on soaring numbers from La Boheme and Turandot.
Killjoys (Friday, 8/7c, Syfy): A perfect summer sci-fi escape, the third season of the scruffy outer-space bounty-hunter action series gets underway with Dutch (Hannah John-Kamen) and D'avin (Luke Macfarlane) on the prowl for a weapon to draw out the superhuman Hullen, while Johnny (Aaron Ashmore) gets an SOS that sends him on an underground adventure.
Gypsy (streaming Friday, Netflix): Less an opportunity to binge than trudge, this sluggish and pretentious psychosexual bore stars Naomi Watts—who's lots more fun on Twin Peaks: The Return—as an obsessed shrink who imperils her marriage to distracted husband Billy Crudup by becoming way too entangled in her patients' messy lives and libidos. It's a good thing he can't hear her voice-overs, or he'd be long gone already. An eye-rolling sample: "We are never really who we say we are. In fact, hidden underneath there's always a secret. We might actually be … someone else." I just wish it had been someone interesting.
America in Color (Sunday, 8/7c, Smithsonian Channel): U.S. history takes on a new hue in this five-part series, narrated by Ray Donovan's Liev Schreiber, that colorizes vintage film footage of pivotal moments from the 1920s to 1960s. First up: the Roaring Twenties, with prohibition, Lindbergh's cross-Atlantic flight, Babe Ruth's winning streak, and the Wall Street crash of 1929. Followed by another new docu-series, First Ladies Revealed (9/8c), exploring the history and legacy of presidents' wives. The opening episode, "The Power of Style," looks at trendsetters including Jackie Kennedy, Nancy Reagan and legendary White House custodian Dolley Madison.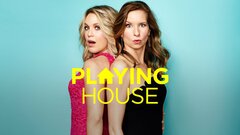 Powered by